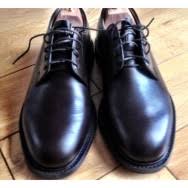 Finally started wearing/breaking in these Church's Chapel that I've had for a couple of years.
This model is effectively the Shannon Plain Toe Blucher but made for Italy in French Calf instead of the appalling plastic coated 'bookbinder' that Church has long pretended is some kind of quality leather. Here the 'shine' is simply daylight + iPhone digital image. They are pretty matte in reality.
Only in England and the US do people think 'shiny' leather must be quality leather. It's coated for a reason. To hide blemishes on otherwise unusable hides.