De Paz, Via Ugo Bassi, Bologna
One of the reasons for my blogging slowing down is that often the posts can take a negative turn and that's no fun to write or to read.
Today's post is most definitely a positive one. These days real tradition is being rapidly lost in favour of faux heritage brands. That and the trend for rebranded traditional firms hiring 'designers' to 'modernise' their wares, means the story of this wonderful store with three generations of history, needs telling.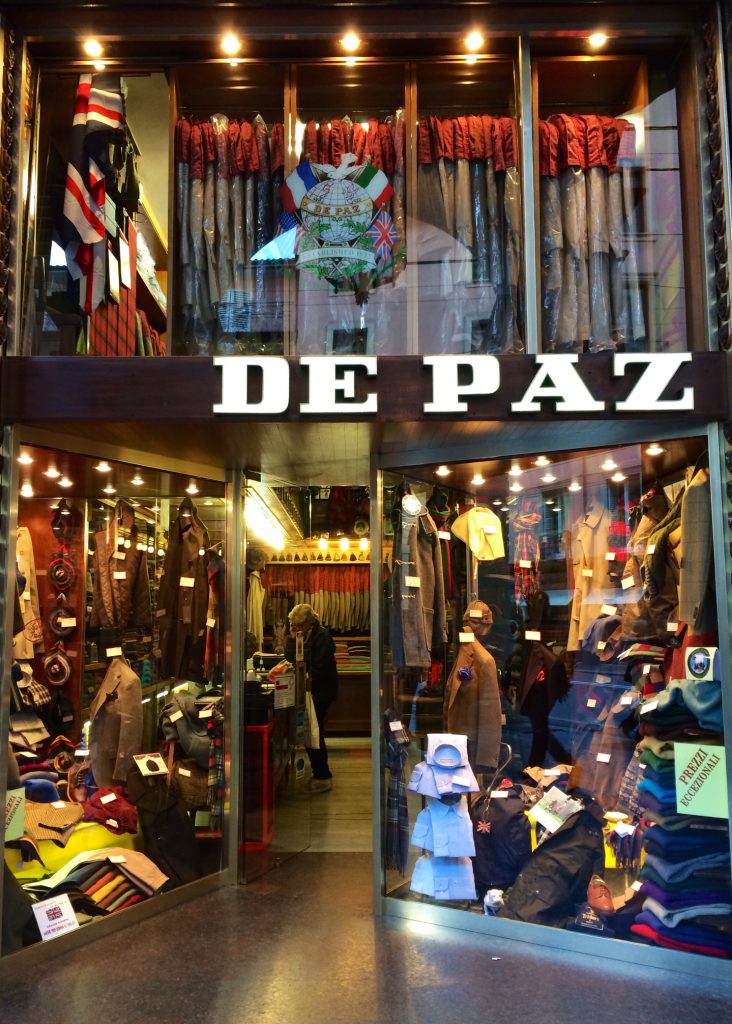 C'era Una Volta… (Once Upon a Time…)
In the mid 1980s I used to travel every couple of months to Paris to escape dreary grey London. In Paris there was JM Weston, Bowen, Paraboot, literally dozens of small boutique menswear stores selling classic clothing, much of it with an Ivy League or at least American flavour. There was a big movement for vintage clothing styles being reproduced and sold new. In London we only had the vintage option for most things. The British traditional style was also still everywhere and mainstream in Paris in those days – a look typified by the very expensive, but very special, Old England.
The latter was a store that sold everything traditional and British but in great colours, fabrics and styles that had long departed from our shores. Whereas the Scotch House in Knightsbridge would sell you traditional British gear, it would only do so in scarlet and cream or camel and black. By contrast Old England had deep chestnuts, bottle greens, lovat heathers and even lilac. Their Burberry raincoats would usually be 100% cotton instead of the Terylene versions sold here. At that time Paris represented a treasure trove of traditional clothing along with the hip modern providers of vintage style – Chevignon, Et Vous and Chipie.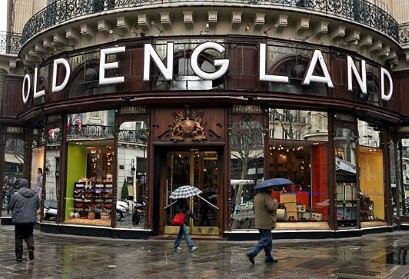 Hard to imagine any of those brands being subtle but they all were back then. With these regular trips to Paris along with telephone orders from much pored over catalogues from Brooks Brothers and LL Bean, there was no need to buy much in London other than knitwear from the late lamented Westaway & Westaway, the odd vintage item from Flip (already drying up then) and of course J Simons in Russell Street.
I couldn't afford the trip to New York in those days and a planned trip to Maine to visit Sebago and Bass factories to buy stock was scuppered by blizzards in the winter of '88 (Winter of 87/88 sounds like some old Wild West term, doesn't it?).
1988 – First Trip to Bologna – First Time at De Paz
I can remember my Dad trying to convince me that whilst Paris had its charms that I should really be looking to Italy. One day in January of '88 he finally insisted I go with him to Bologna; then a true working city which despite its incredible medieval history attracted very few tourists outside of the Trade Fairs and visiting university guests. In those days most tourists went to Florence and Venice, passing only through Bologna on the Intercity trains.
I had finally succumbed to the Italian way of life and what I found literally changed my life. Sure, compared to London at that time Paris had classic style in abundance but it also had many rude inhabitants and for me, terrible food with everything smothered in sauce – French food supremacy being a global marketing myth thankfully resigned to history these days.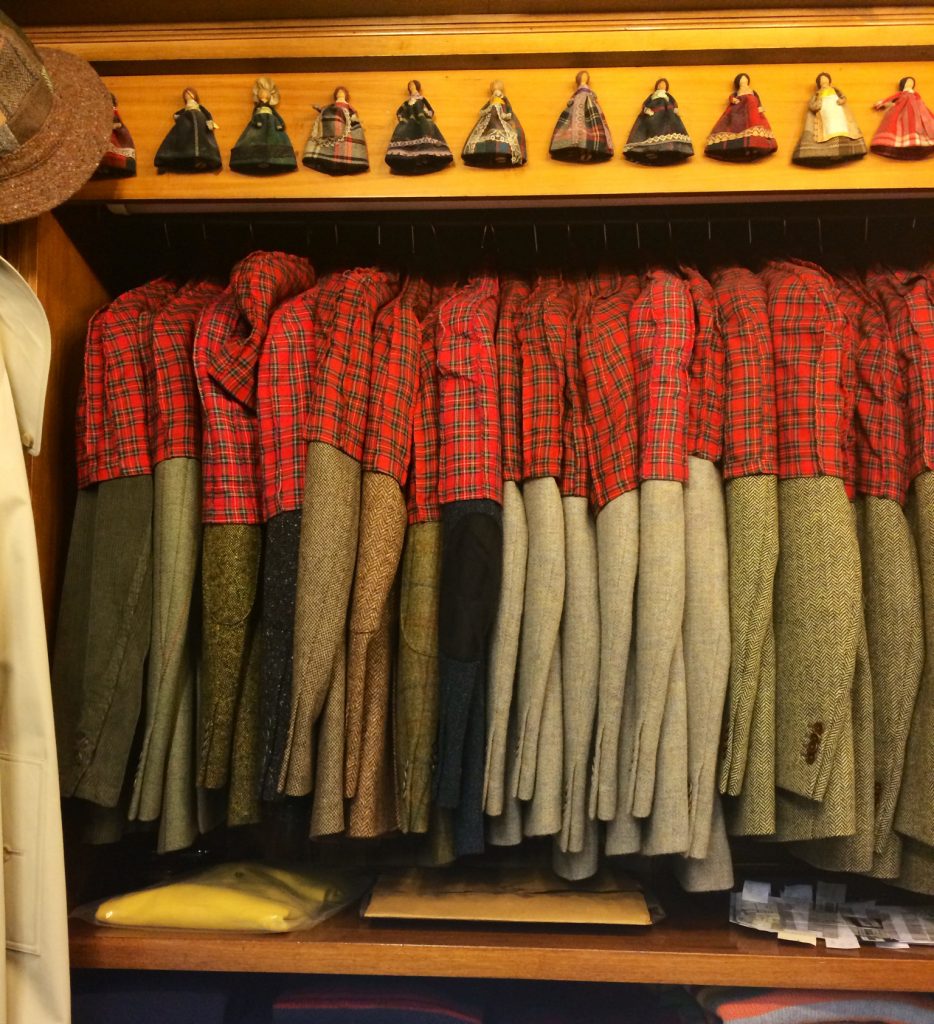 What I found in Bologna (and later in other cities) was style combined with easy friendly charm and glorious, simple food prepared with incredible ingredients. The city also had literally hundreds of small independent stores, many of which still had their 1930s to 1950s deco-inspired signage and interiors. There were virtually no chain stores, no international brands with the same crap in every store. Not long before my visit McDonalds had opened in Bologna and as a result the store was stoned for several nights in riots by paninari, despite agreeing to restrict its branding to the ochre colours of the city. Italians were aghast at the audacity of McDonalds and doubted anyone would eat there. These days it is of course packed full of young Italians – a sign of changing times.
True Italian food changed my life, as did exposure to the Italian interpretation of classic style – as it still existed in the 1980s. From the roots I'd built up copying 1950s and 60s movies, buying clothes from John Simons and Flip, along with those trips to Paris, I added a new layer of colour and a mixing of layers that was uniquely Italian.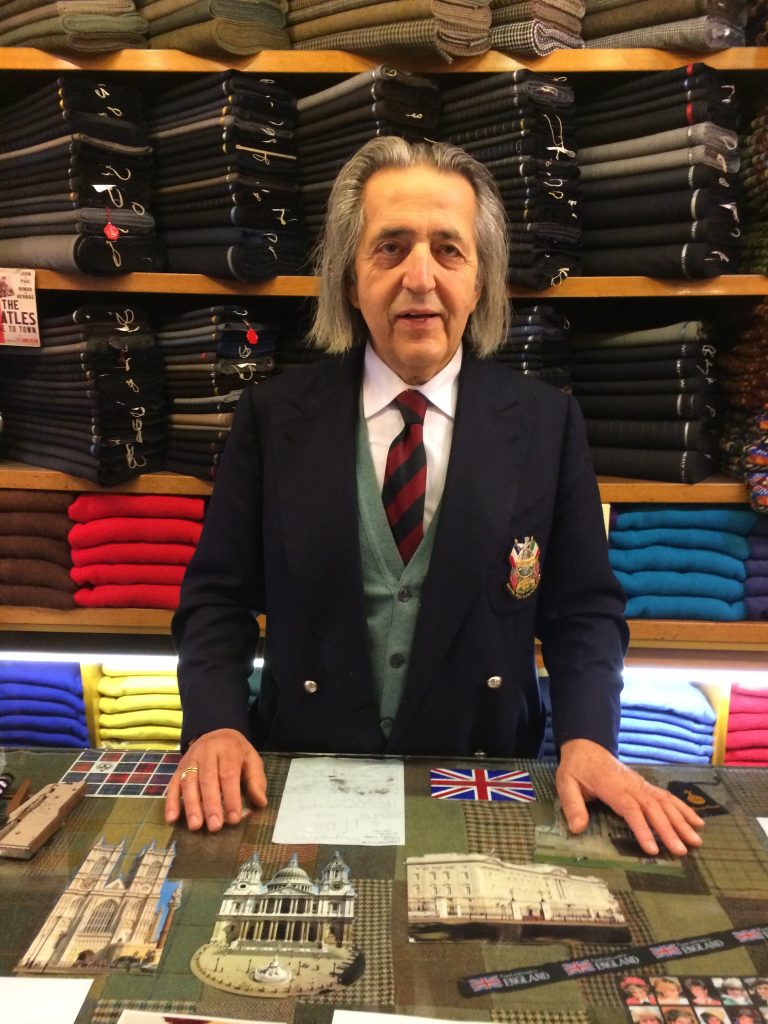 Food, Style and Passeggiata
On that trip I bought my first pair of Persol 714s – the folding glasses I'd only previously seen on Italian tourists, outside of McQueen in Thomas Crown. Another other revelation for me was the passeggiata – the daily ritual during which Italians of all ages would window shop, eat ice cream, old men walking arm in arm with coats draped cape-like over their shoulders, gangs of fur-clad elderly women resembling little bears and beautifully turned out young women who confirmed Fellini's assertion that the Bolognese girls were the best in Italy. If Lacoste shirts in lilac were the fashion, then everyone from 8-80 would be sporting the look. Even if some things were not items I'd wear, they were almost always classic, understated and simple garments. Never the garish fashion that American movies attributed to Italy. A year before my first trip I'd briefly met Ermenegildo Zegna in New Bond St. He was dressed head to toe in English tweed with a shooting jacket from Holland and Holland and a pair of Tricker's brogues. "In Italy those with style wear English clothes", he told me. "We Italians then export 'fashion' to the rest of the world. We don't wear it, it's just our business."
Back then, around every corner in Bologna was a surprise; one which almost always involved true style in the classic sense. I can remember buying a pair of yellow driving lenses for my Ray Ban Outdoorsman glasses from a tiny back street optician and a pair of olive moleskin trousers that came ready with Ivy-correct cuffs.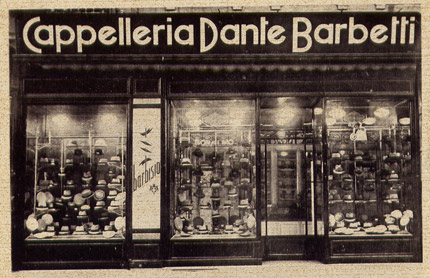 Everywhere you looked there were classic shops, stuck in a time warp. Men's stores with cashmere cardigans, peccary loafers, blue button down shirts, over the calf cotton lisle socks, Valstarino suede jackets, Made in England Baracutas (virtually impossible to find in London at that time) all carefully pinned and displayed behind vintage windows with wonderful lettering. I bought a cashmere Borsalino cap with fold down ear flaps (no such thing could be found at home) at at incredible store called Cappelleria Dante Barbetti, opened in 1821 and looking pretty much the same still. All the hats were displayed outside in the deep windows and inside were lettered mirrors with faded silvering and drawers of hat stock.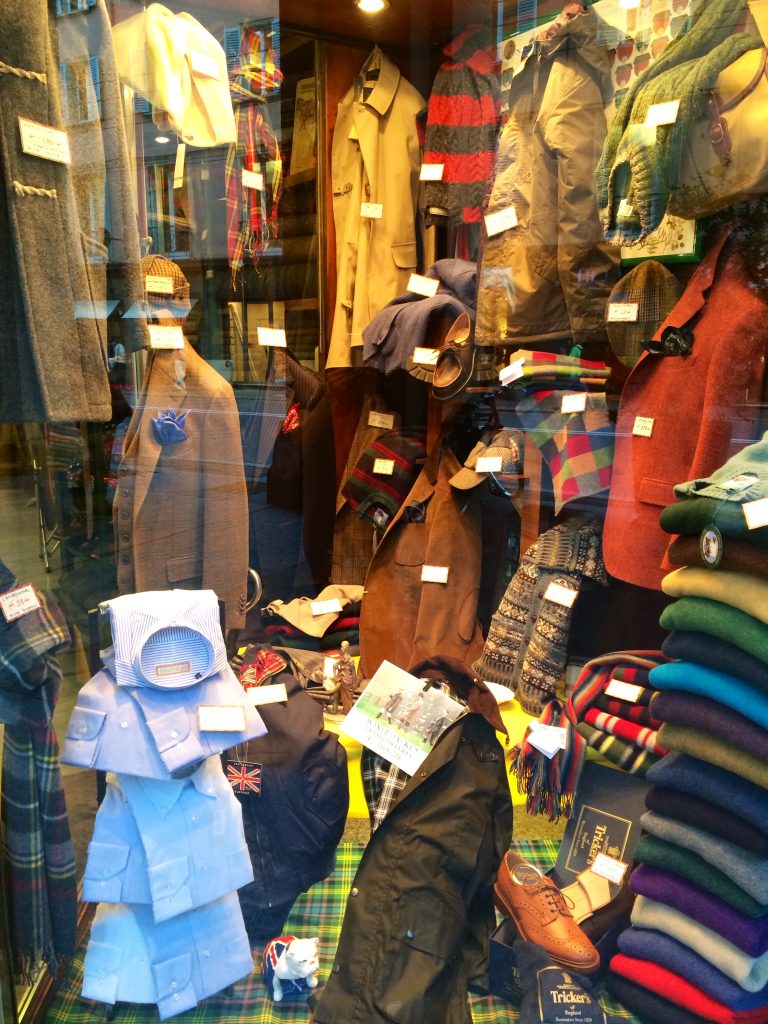 Classic & Traditional Italy
The common thread seemed to be that classic and traditional were the norm for most people. Of course there were 'i Dark' (Italian Goths) and strange hangover styles from the 70s, and not everyone could be called well dressed, but in the cold afternoons elderly women gathered in fur coats styled in the 30s and even the youth cult of the day 'i paninari' wore classic Americana. You could dress very well from every level of pocket – from traditional pullovers and copies of English Lavenham quilted jackets (a decade before being rediscovered by British city workers and football fans) at the local weekly market to the very of best of imported British clothing at the best store in Bologna – De Paz.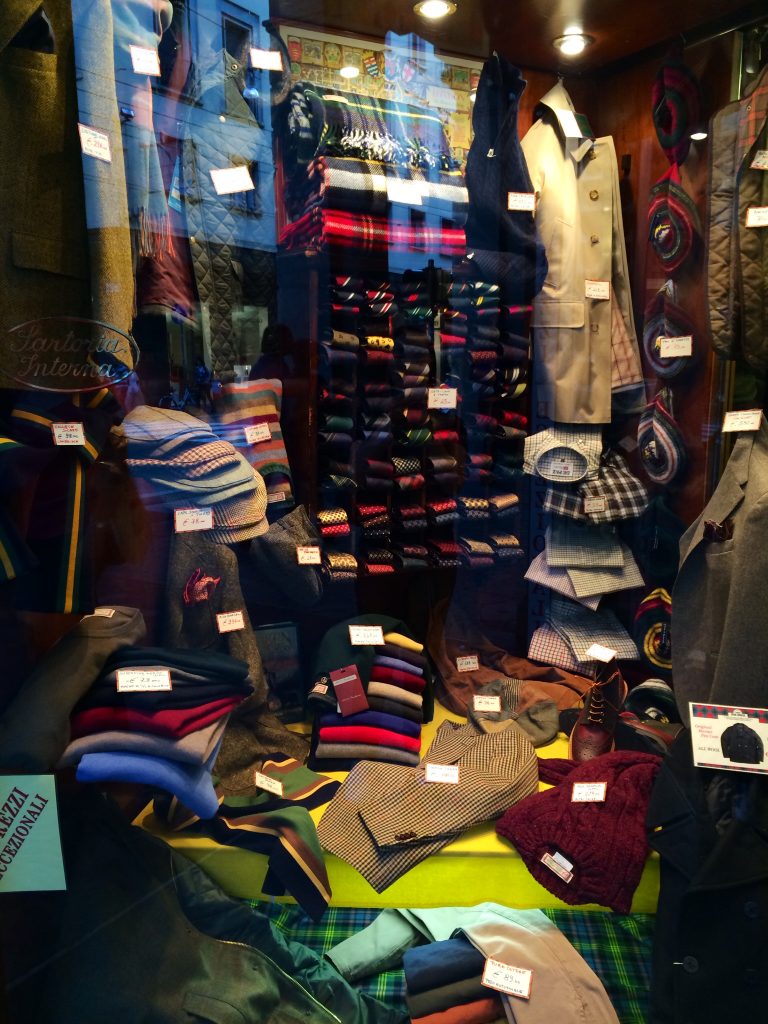 De Paz Still Thrives
This brings me to the point of this story. A couple of weeks ago I returned to Bologna for the first time in seven years. For a long time things had been changing in Italy. The adoption of the Euro made it a very expensive place to visit with the weak pound and the lure of further shores like Tokyo and New York meant I didn't return to Italy for a while. I found Bologna to be very much changed, even since 2007. Capelleria Dante Barbetti had closed, leaving only the beautiful signage, as had countless other stores I remembered on the main street, Via dell'Independenza, all now replaced with international tat. The Italians themselves were now bizarrely dressed in the main, no overriding style, just a cannibalistic usage of the 'fashion' they once only exported. Even in 2007 I'd noticed there was a kind of Russian call girl style taking over women's clothing, but today it's reached extremes where even Church's (now Italian of course) were displaying shiny patent brogues covered in punk chrome studs.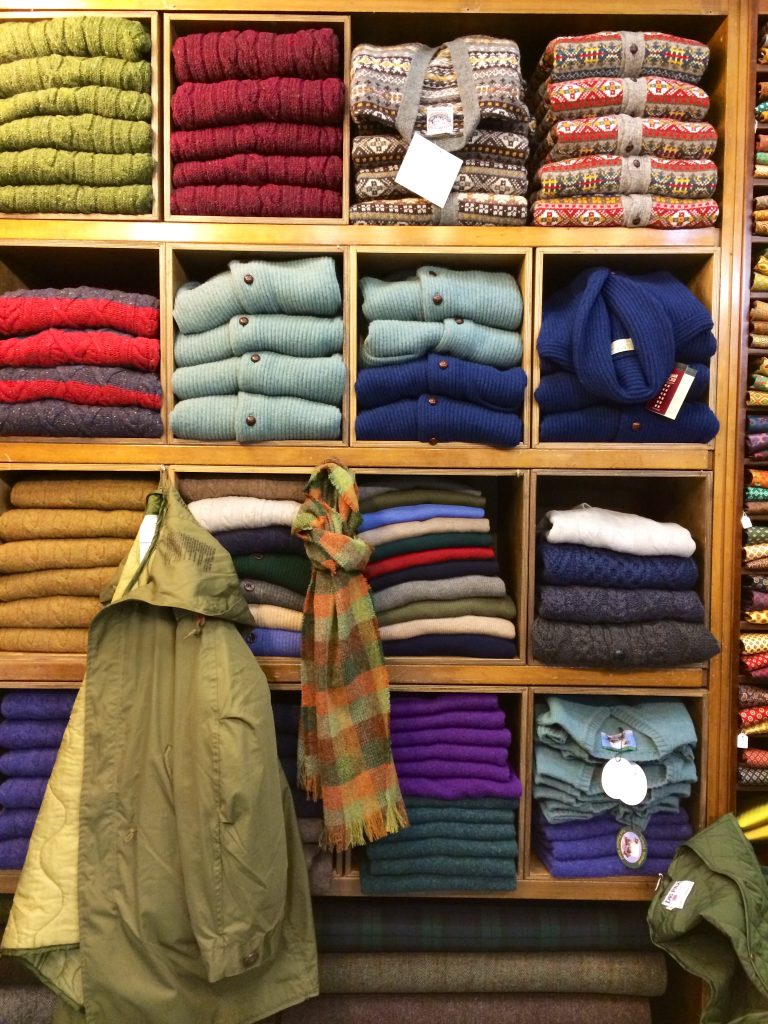 However, there amongst the chaos stood a beacon of style hope, holding out against the tide of trash. Like the famous photo of St Paul's cathedral standing alone in the chaos of Luftwaffe destruction, so today De Paz stands alone in the chaos of the fallout from the very 'designer' fashion that the Italians started, exported and then finally consumed themselves.
In all the many times I've been to Bologna over the last 26 years, even if just passing through, a half hour gazing at the incredible assortment in the window has always been a must. Nothing had really changed. Fashions had come and gone, but De Paz had always held its own with its enviable display of Shetland knitwear, soft shouldered tweed jackets, Tricker's brogues, and little union jacks everywhere.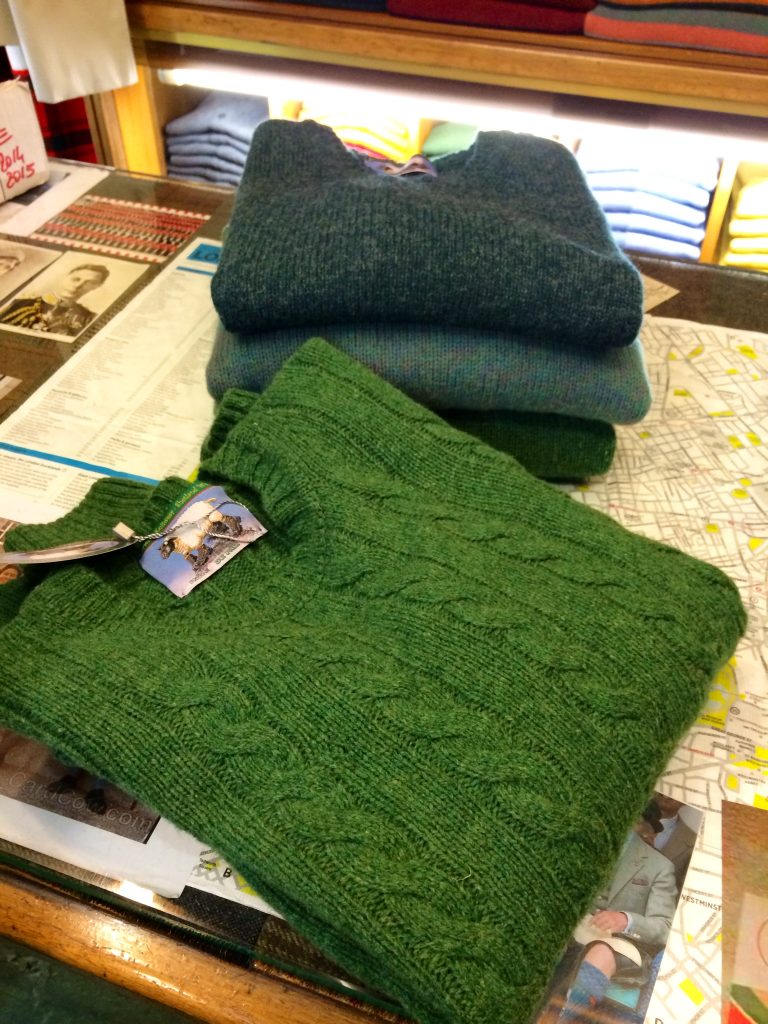 "It's Like Those Stores on Regent St – Only Fantastic!" Ben from Herb Lester on Seeing My Photos of De Paz
When I sent Herb Lester some photos of the store from this trip, he hit the nail on the head: "It's just like those stores on Regent St that sell tartan and cashmere – only it's a fantastic one!"
Clothing for 'gli proprio inglese'
In 1989, I was in Bologna with John Rushton, on our our way further south to buy Italian copies of American loafers and we stopped off at De Paz. I can remember John chatting for hours with owner Dante in John's perfect Roman Italian all about 'gli proprio inglese' and how it was all very different now in Britain to this image the Italians had of Principe Carlo and Lady Diana, polo, Twinings Tea and Jaguar cars. Dante nodded a lot but didn't quite believe him. I had a similar conversation with Dante the other day, about the mere handful of English shoemakers left in Northampton and how it was so hard to find some of his stock at home. He nodded a lot but again didn't quite believe me.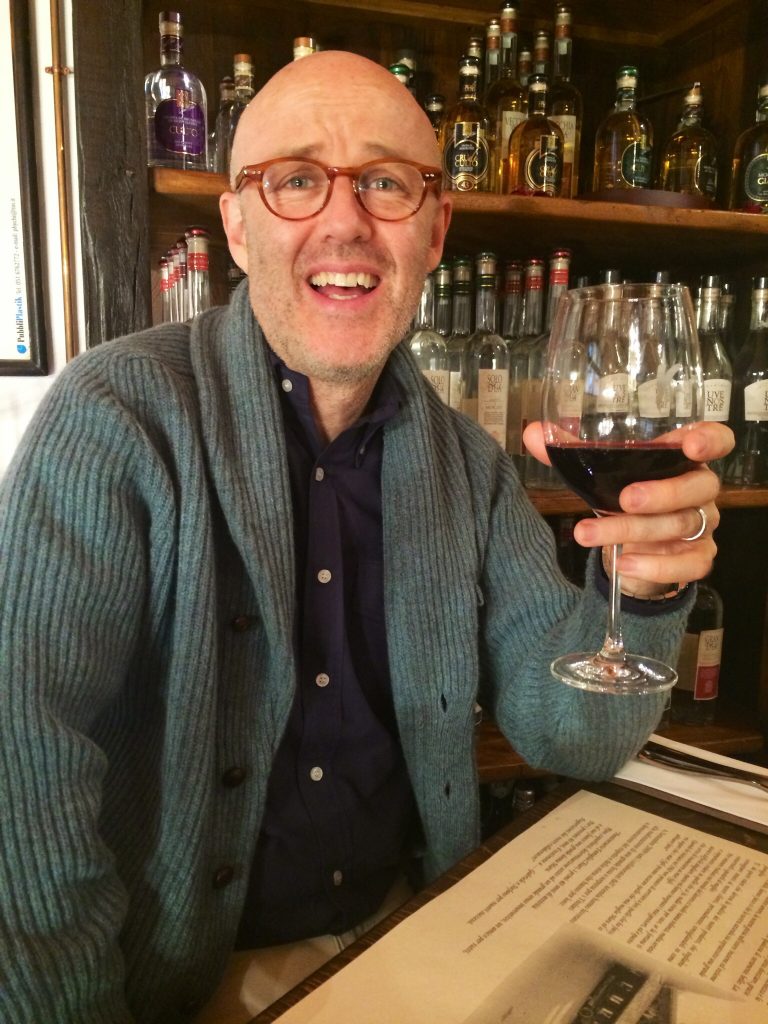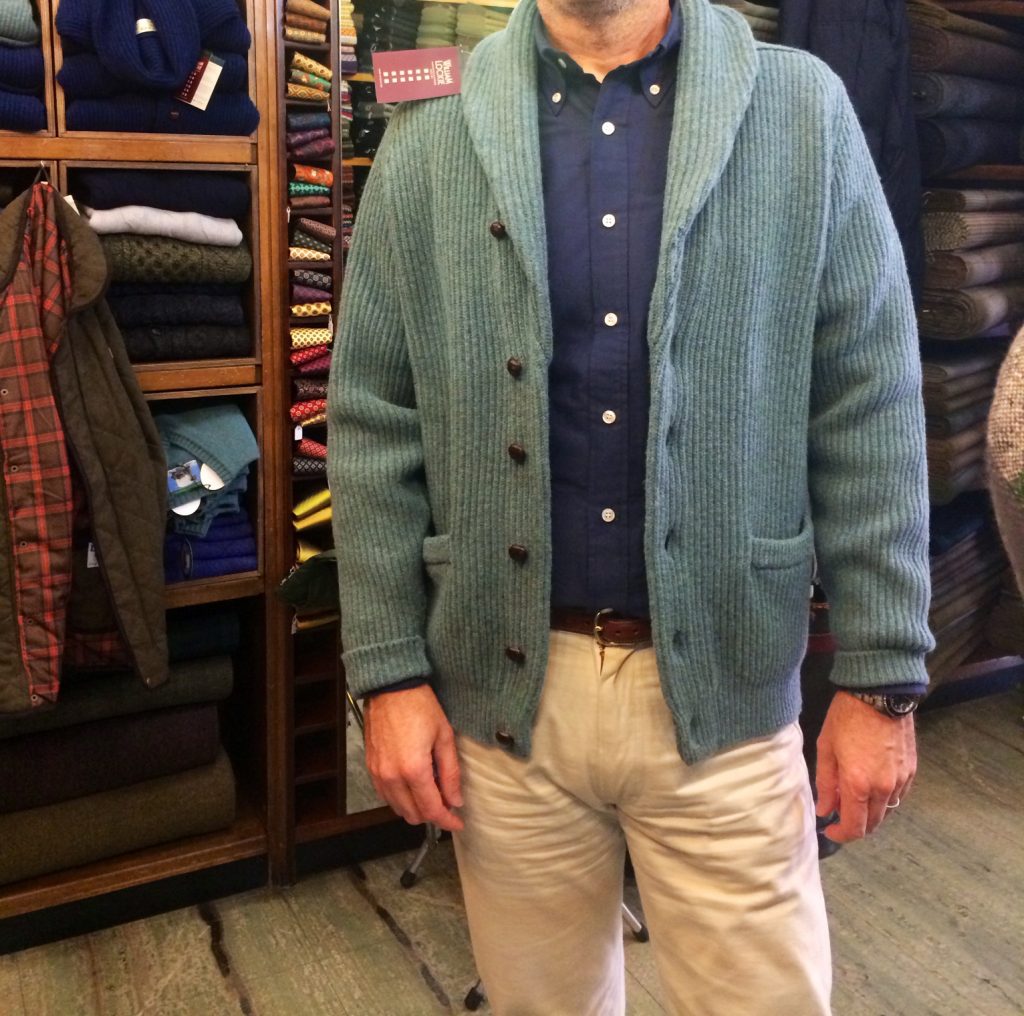 For Export Only
In those days, a lot of the best clothing we produced were mostly hidden to us in Britain, and outside of a few stores in Jermyn St, most of the finest garments and shoes made here in the 80s went to Italy, USA and Japan. All of them without exception were the finest only because the buyers from those countries insisted they should be, never because the producers here offered the perfect product. Here in Britain we got the 'also ran' versions, the 'just good enough' products, made to compete on price with increasing imports – a battle we all know would soon end in tears for most traditional firms.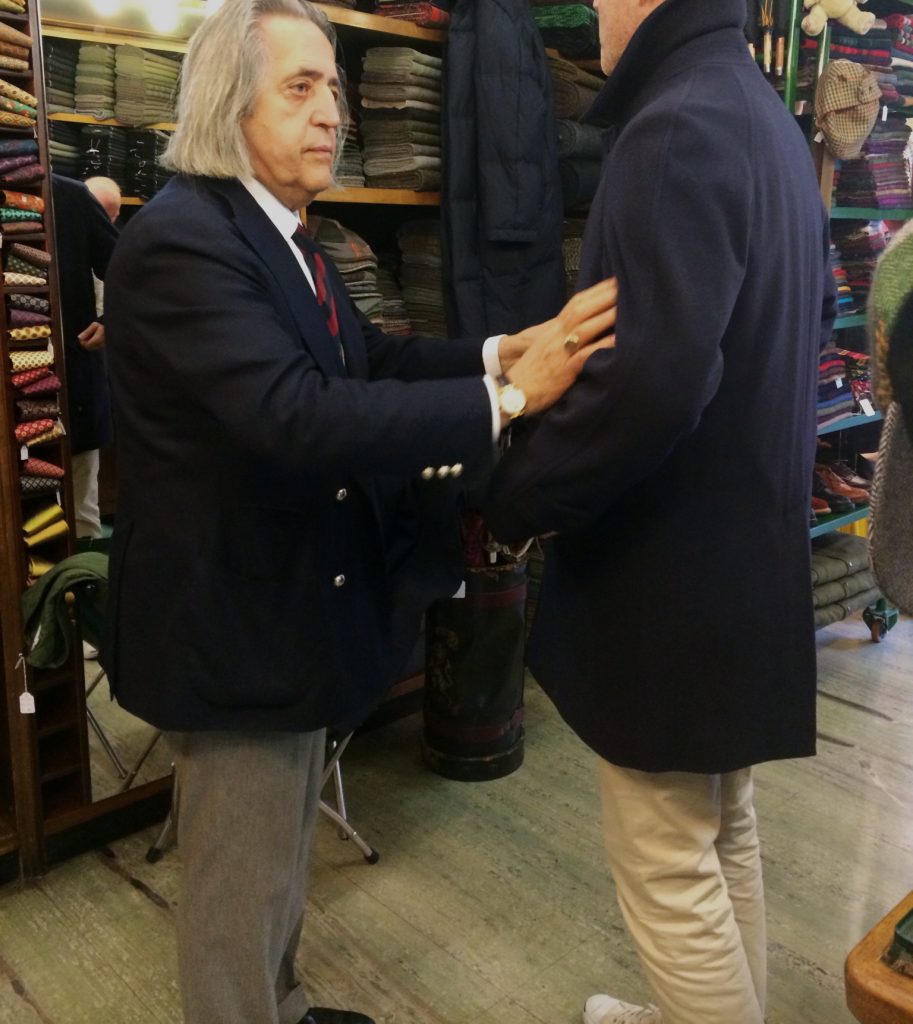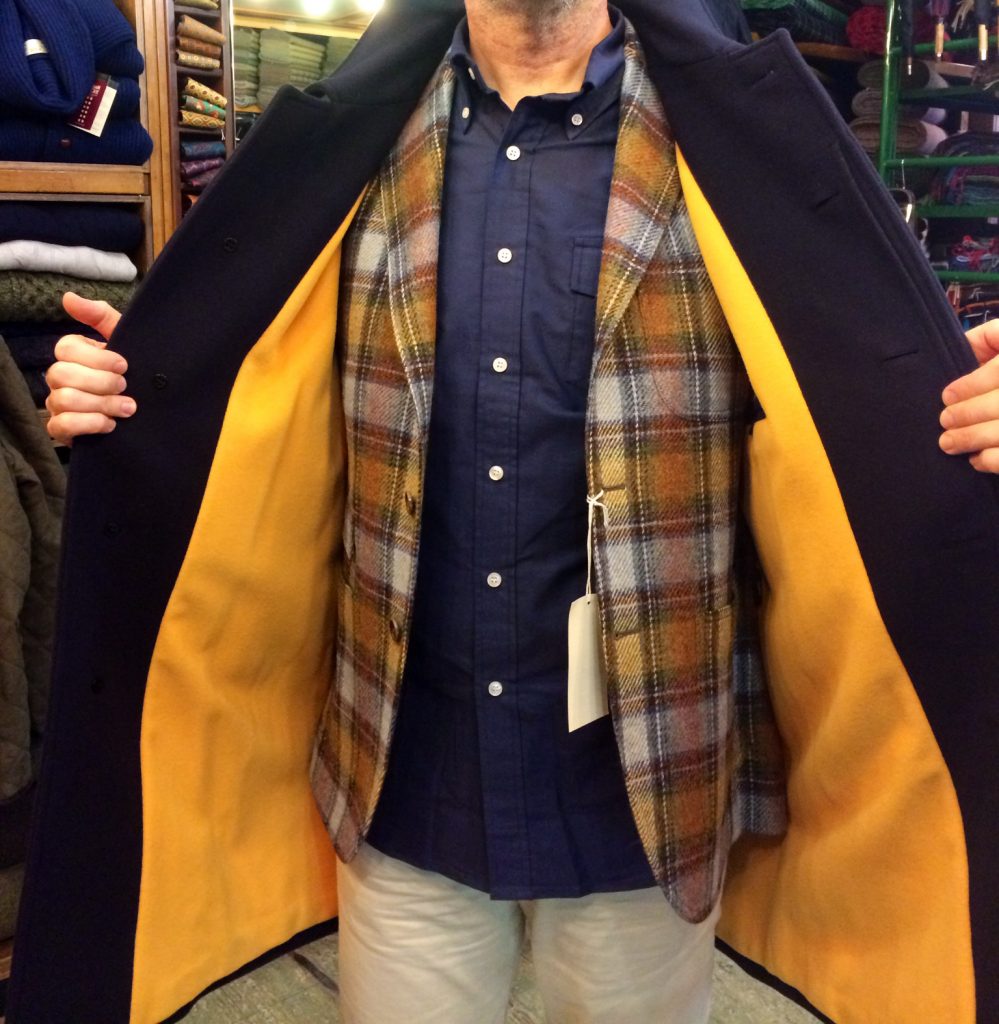 De Paz Sold Tricker's Long Before They Went 'Fashion'
One of De Paz's key brands even then was Tricker's. In 1988 no one wore Tricker's in Britain who wasn't to the manner born, with a very few exceptions. For locals here, Grenson probably occupied the closest market space to that which Tricker's now holds. Expensive, but flashy and garish. Every year in the Jermyn St sale Tricker's would have some export models made for Japan or Italy at reasonable prices and the ancient men who worked the store would tolerate us youngsters for the duration of the sale for the sake of clearing a few oddments they'd rather never have had in the store.
De Paz on the other hand helped to make Tricker's mainstream in Bologna. The brogue and heavy storm welted loafer, usually in Tricker's' famous tan, but also in grain and tobacco suede, these were shoes for the cognoscenti. Today it's amusing to see how Tricker's have sold their very soul (soles?) to the global flash in the pan that we've witnessed in the last three or four years. (Tricker's' fashion styles are now so 'out' of fashion, and having had no clue as to why they had their success in the first place, that the factory is working a three day week whilst the other classic Northampton factories are busier than ever).
Deadstock Drumohr Shetlands – Made For Old England of Parma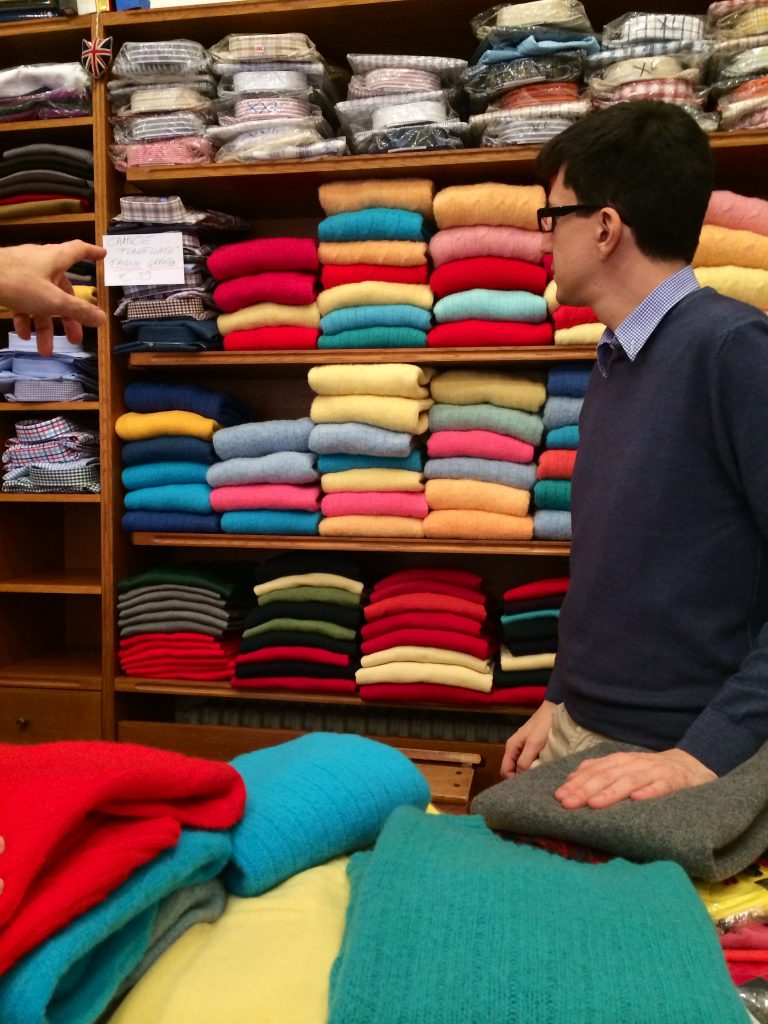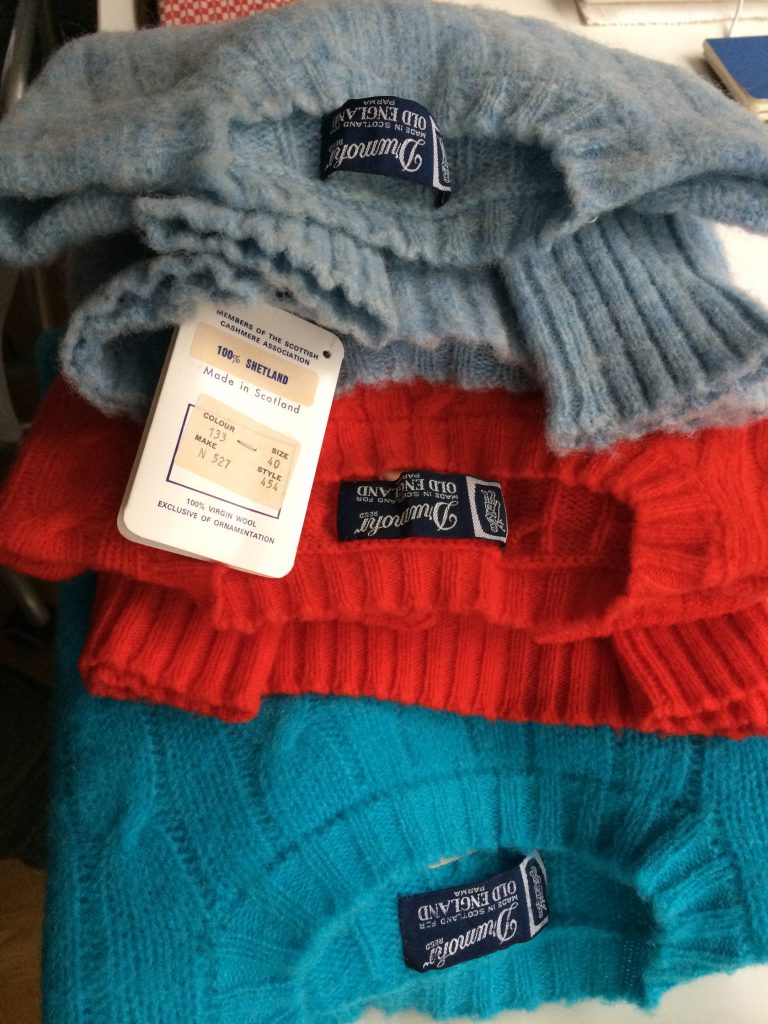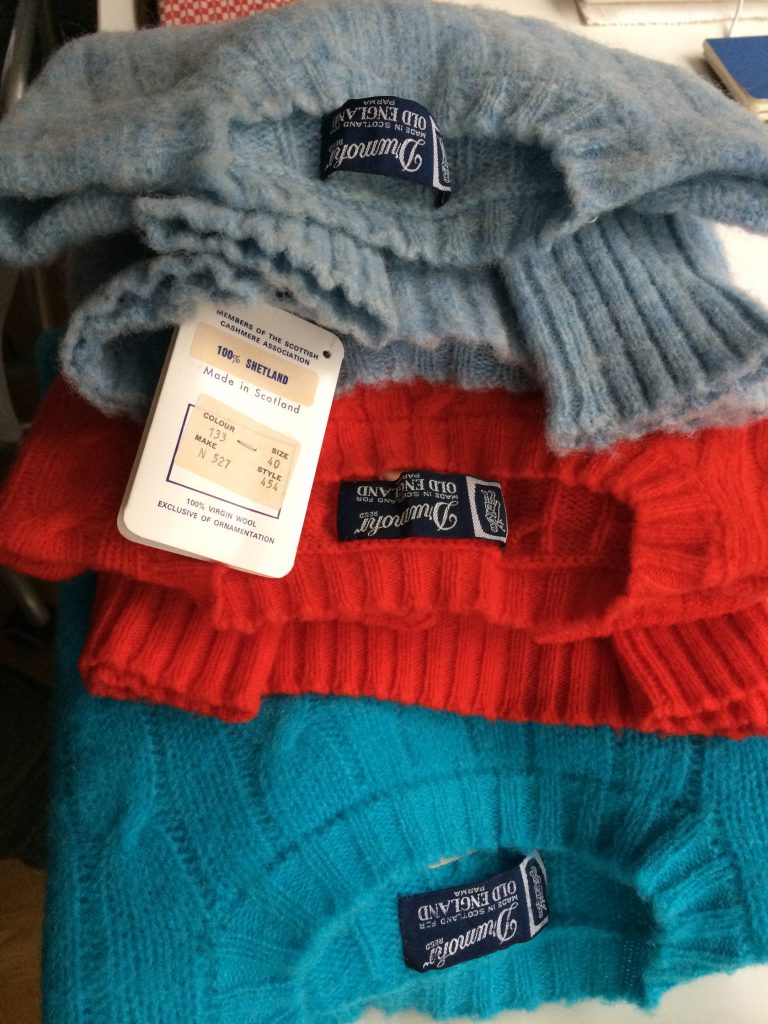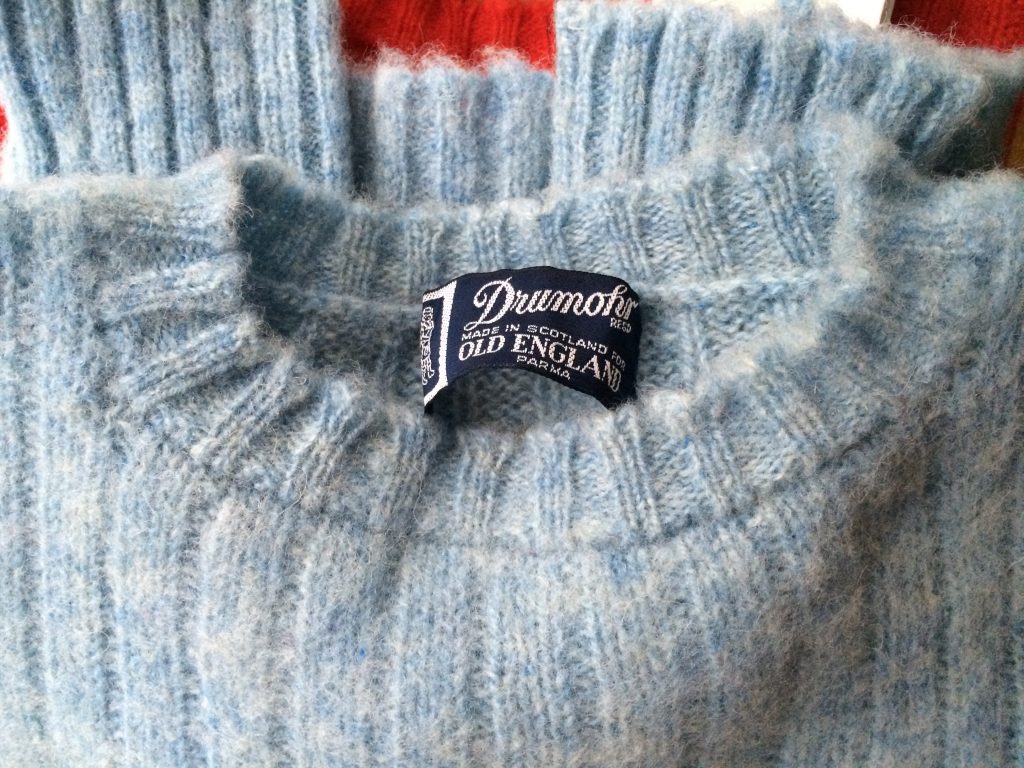 Sure enough last week in De Paz, the sight of the traditional Tricker's brogue in tan in the window was like stepping back into that time before Tricker's lost the plot completely. I really hope Tricker's recover their composure because without brands like Tricker's and William Lockie, Grenfell and Mackintosh, then De Paz would have an uncertain future.
It's still a little hard for Italians to understand that we have a drought of classic knitwear here. Five years ago you couldn't even buy decent Shetland sweaters. Now, thankfully there are a lot more outlets, even if they come in the guise of Monocle-endorsed fashion retailers like Oi Polloi and Present.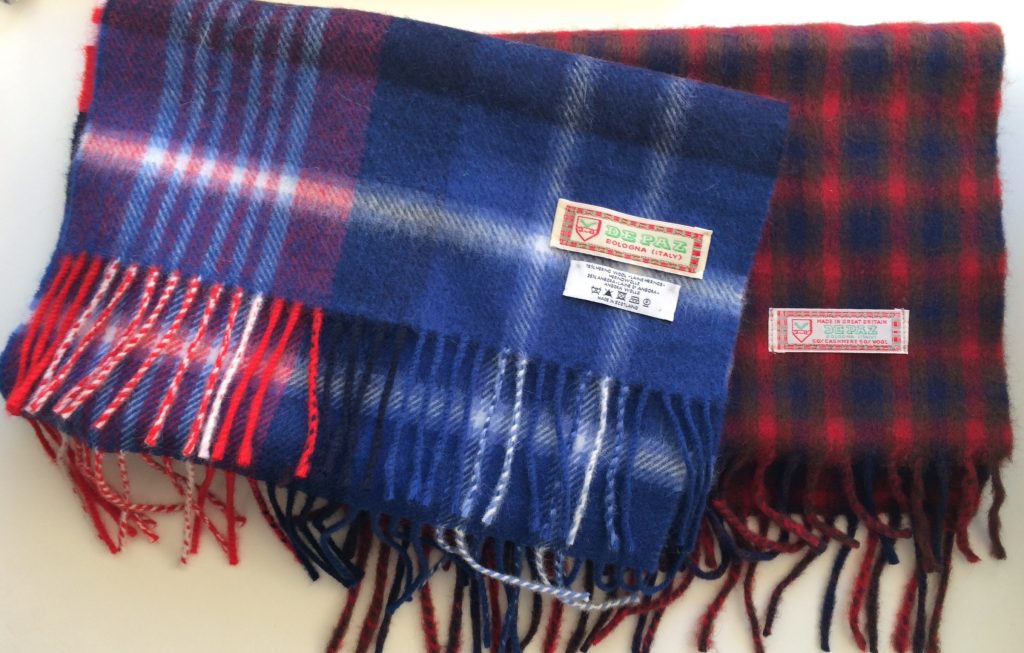 But what we no longer have here is a De Paz-like purveyor of the simple classic basics in wonderful colours. Westaway and Westaway was like a temple to me in the 80s and early 90s. I can remember going regularly to request for items like a cardigan in baby blue (having seen Fred Astaire in Funny Face) and the manager simply phoning up their supplier (Lockie) and ordering one in my size. Herb Lester was right, the only places left here that sell traditional knitwear are those peculiar Filipina-staffed cubby holes in Regent St and Oxford St, but even those are fast being cleared for the endless regeneration of the area into boring global brand HQ of the world.
De Paz has somehow weathered all these storms and remained steadfast in its vision of offering the best quality traditional British clothing albeit through Italian-tinted spectacles.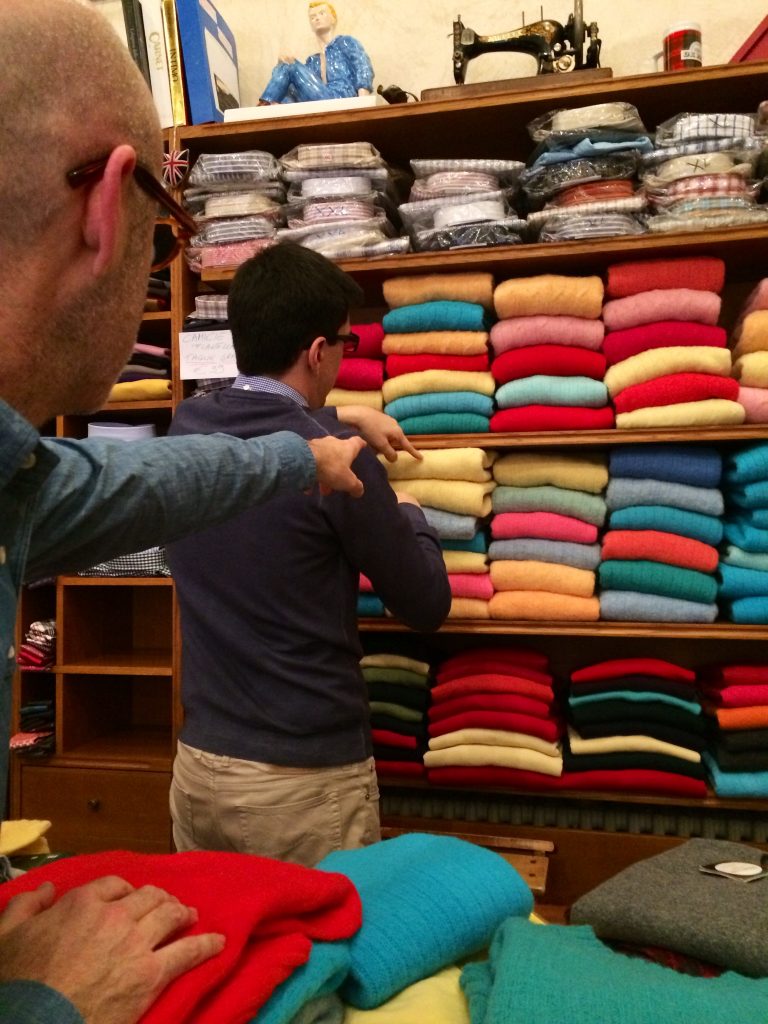 Dario de Paz, the third generation to run the shop in the same location on Via Ugo Bassi, explained that his grandfather had started importing British cloth in 1932 when he opened the store. Apart from a few years during the war when the shop was forced to close for obvious reasons, De Paz continued in the same format until Dario's father Dante took over in the 1960s. Dante began to shape the store into what it is today – an emporium stuffed full of the best of English, Scottish and Irish knitwear, outerwear, shoes, ties, socks – pretty much everything you need for an entire wardrobe of classics. A few touches like Italian made button down shirts and French Paraboots, along with Loden coats from the Tirol add up to a complete outfitter.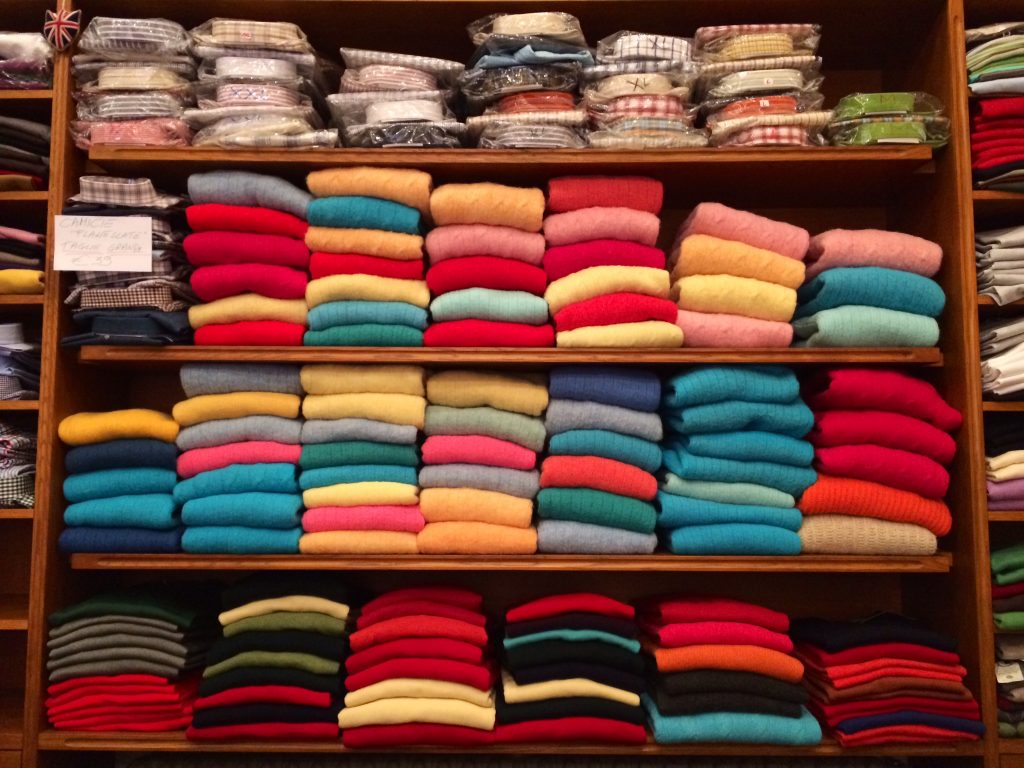 Shetland Heaven
I made three visits to the store during my five day trip to Bologna. I also accompanied Mrs Weejun on her visit to the De Paz women's store, just down the road near the legendary Atti e Figli delicatessen, just off from Bologna's 'jazz street' Via Drapperie. The women's shop is run by Dario's mother, a wonderfully elegant woman of the old school. Whilst Mrs W perused the cashmere scarves and beautiful calf leather gloves, I chatted with Mrs De Paz about the steep decline in the standards of dress I'd noticed over a quarter century – in Italian women in particular.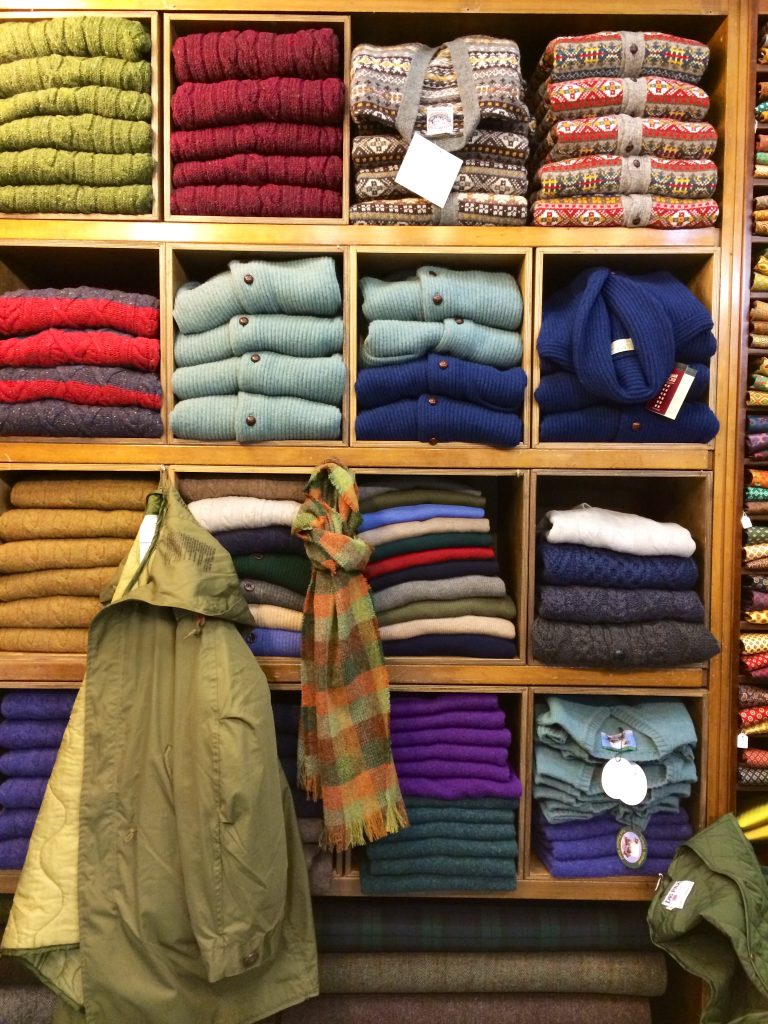 Once upon a time the 'bella gente' could be found every Sunday afternoon parading in the passeggiata in beautiful knitwear, classic fur trimmed coats, subtle accessories – these days the style is more Russian prostitute than Audrey Hepburn. 'It's difficult to run a store like this today," Sra De Paz told me. "It's not just the 'crisi finanziaria' but the 'crisi di gusto' – the crisis of good taste."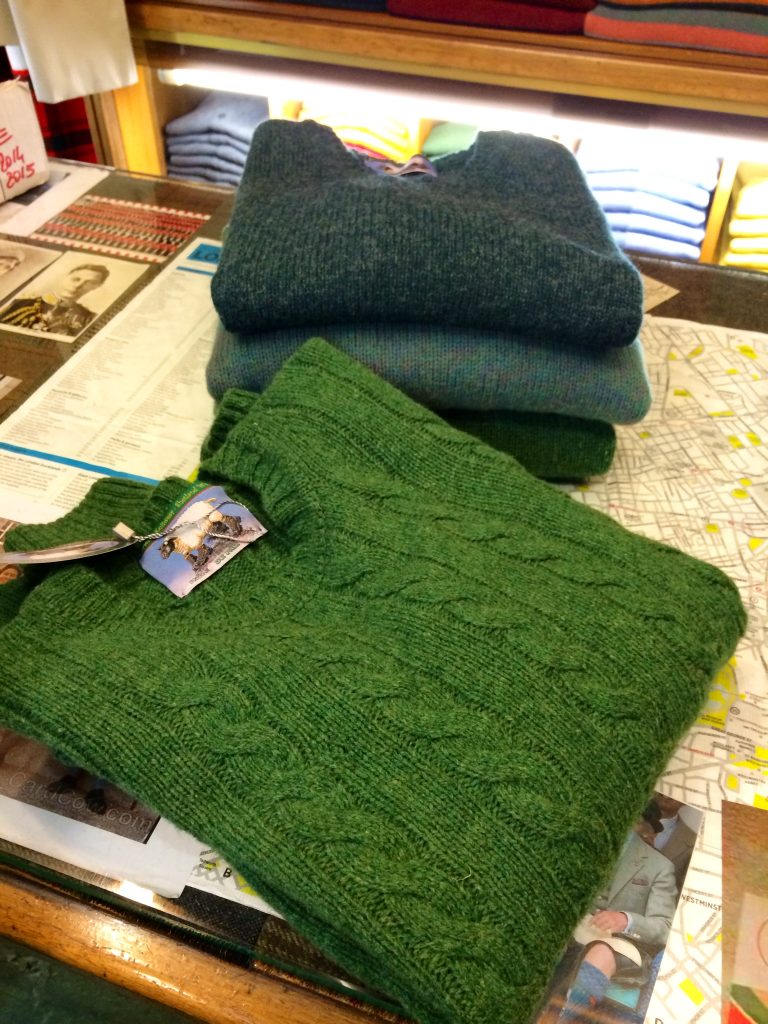 The menswear store fares better these days, especially with promotion on Facebook and the existence of enough customers to still sustain the shop, but Dario concedes that the heyday for De Paz was the 1980s, 'we were very famous in Bologna at that time' he says. Rightly so.
"It's Not So Easy Selling Classic Clothes in Store in 2014"
The unseasonably hot October weather was also playing havoc with De Paz's winter clothing stock and as elsewhere in the city a lot of things were already on sale. Once upon a time discount sales only occurred in July and January, but these days, as in the USA and UK, retailers have to respond faster than ever to uncertain weather and other man made crises.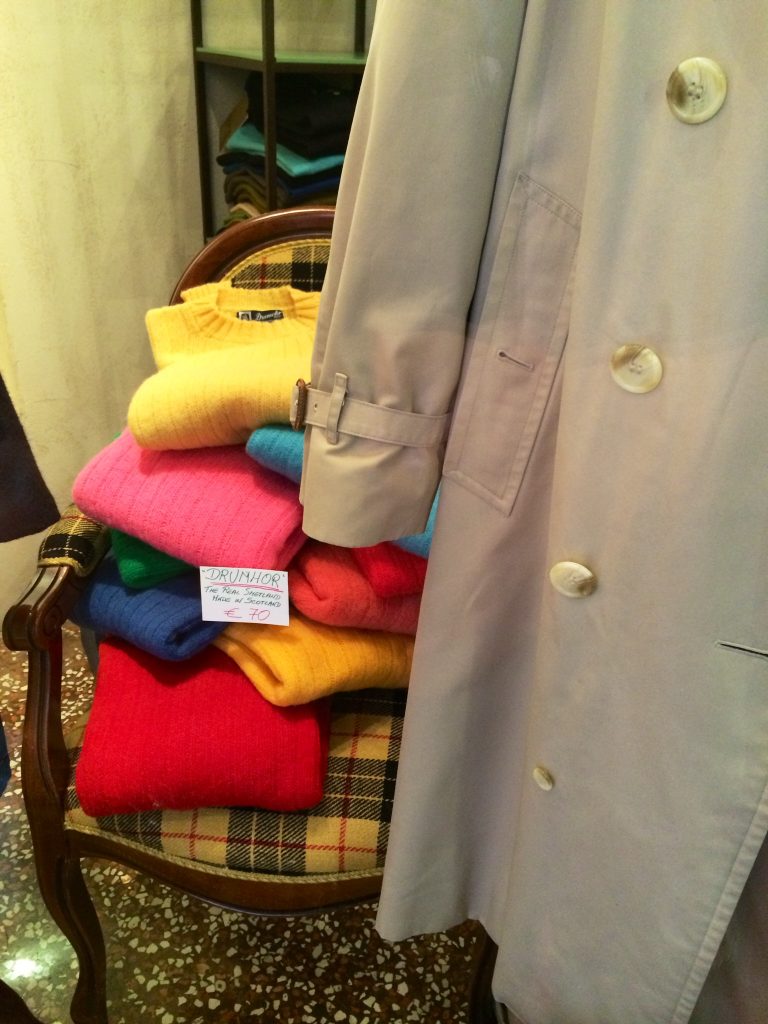 Of course, it isn't just Bologna, or Italy in general, that's changed. London has changed a lot too, some for the better and Paris finally succumbed to the worst excesses of global style like everywhere else. Old England ended up selling expensive and bad Italian suits and went bust just when traditional style was starting to pick up again, and JM Weston now only grudgingly carries its legendary models alongside hideous grey winklepickers and Berluti copies. Chevignon is a down market catalogue brand and even Michelin no longer pretends Paris is the best place for food.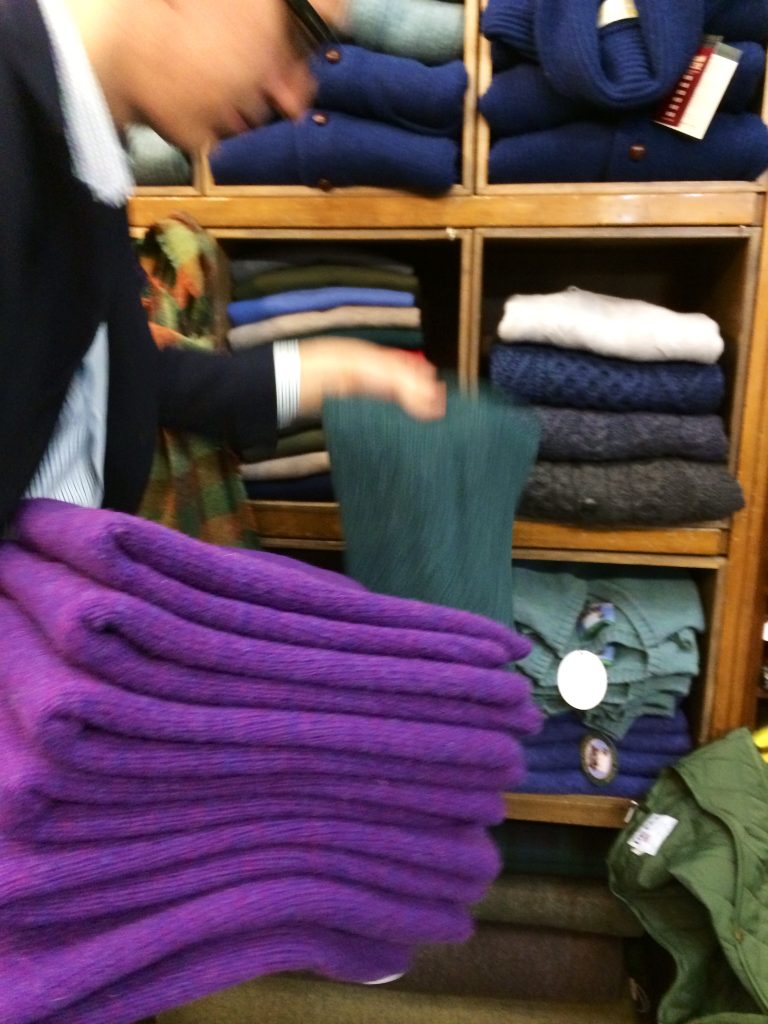 For those of us who love classic clothing, the internet has long been the place where we find the lost, misplaced, the deadstock, the lone remaining maker of some obscure product, along with the new providers. But the thrill of walking into a store and finding so much that you would wear and so much dedication to its preservation is a rare and wonderful thing.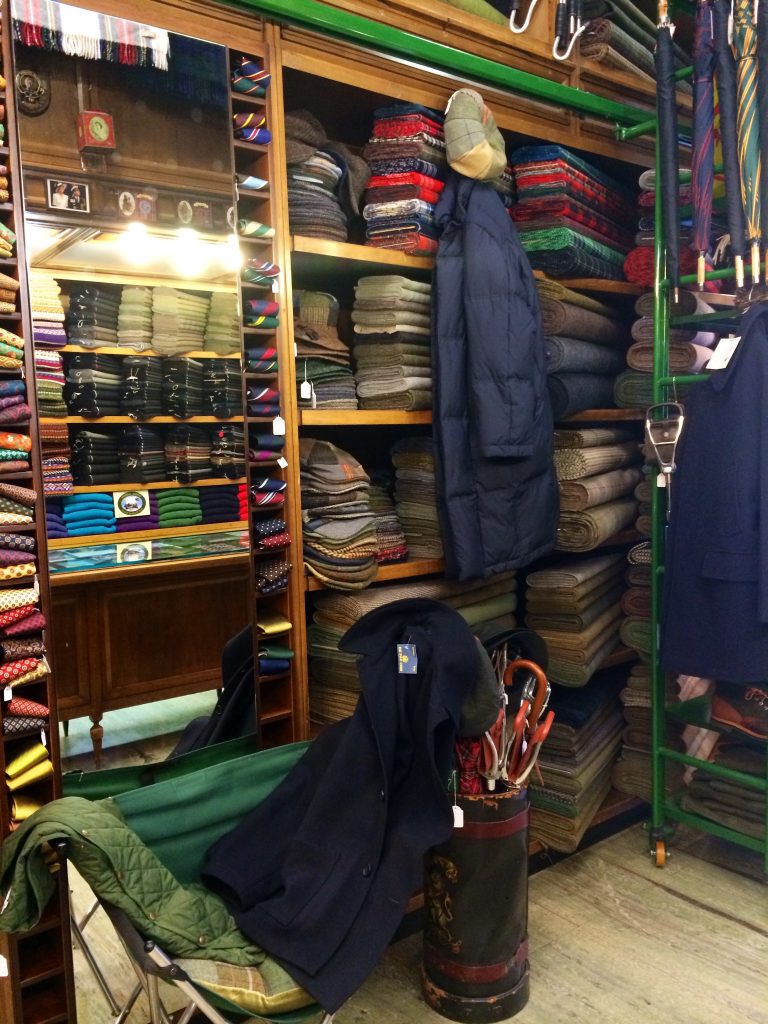 Taking advantage of being able to physically try things on, I bought quite a few Shetlands, including four of the 1970s Drumohr deadstock, some brushed, some cable and one Shetland patterned geelong, along a stunning dark navy Melton car coat by Grenfell. The coat was based on their Grampian model, but with a stunning yellow wool lining – it's these details that make the Italian take on 'British' so interesting.
Traditional British Crosses Over Into Ivy Style
Of course, much of the stock in the shop also falls into 'Ivy' – these are items that the Americans sold in the Andover Shop, CCC, and of once upon time Brooks Brothers; duffle coats, Shetlands, sleeveless cardigans, college scarves, heavy English brogues, Mackintosh raincoats and Argyle socks.
Just like other legendary niche stores around the world, O'Connells, Cable Car Clothiers and John Simons, being the most obvious, De Paz also needs its suppliers to stay in business in order to provide its clients with the best possible quality. The handiwork of tiny production units in Lerwick to Hackney to Northampton, all ends up in the tall entrance windows which frame the store. I remember on my first trip being most impressed with the tartan suit covers of the dozens of jackets hanging in the store, and thankfully some things don't change.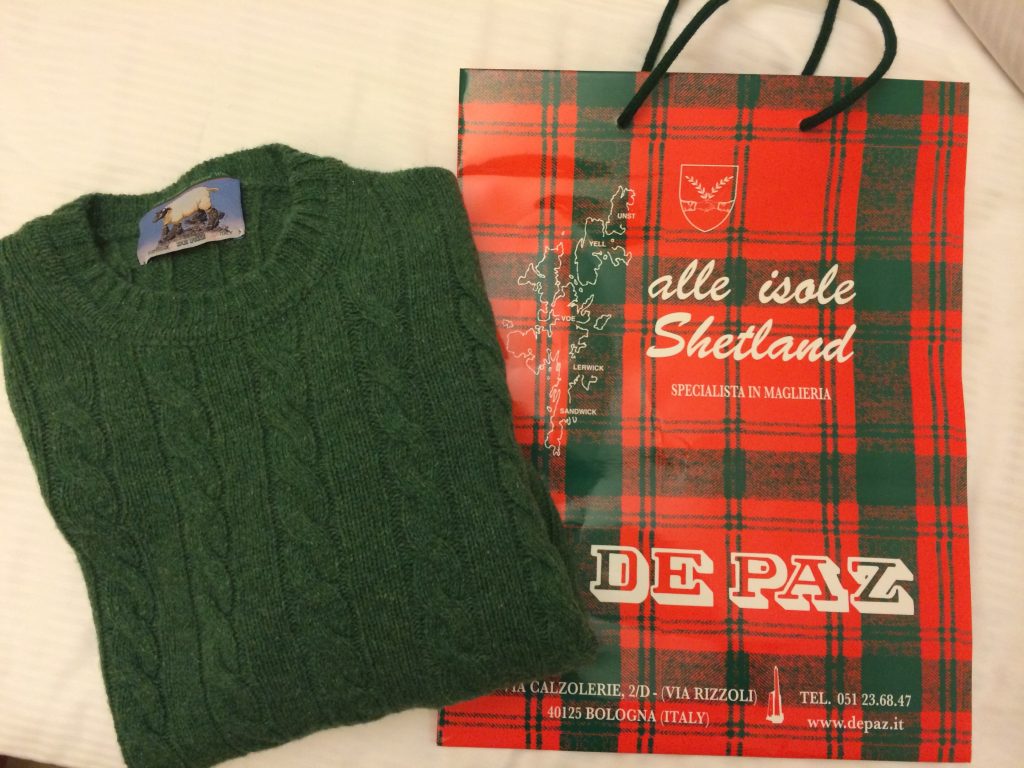 Like our friends at John Simons, De Paz used to buy their Shetlands from Laurence J Smith, but since they ceased trading (and became Laurence Odie) they've been sourcing them from Lerwick. However, they also have a secret stash of Shetlands from the 1970s, made by Drumohr (an other venerable brand, made bankrupt by idiot owners a few years ago and turned into bad fashion by Italian owners) for a store called Old England of Parma – a store which of course no longer exists.
When I got back I sent John Rushton a photo of me with Dante and the phone rang within a few minutes. I can't believe it's still there, fantastic!," said John, and told me he would be making a trip to Bologna when he goes to Italy at Christmas. "Osso Bucco at Diana (a local landmark since the 1920s and thankfully still there) and a walk up to De Paz to buy some knitwear – perfect day trip."
In a world of constant and sometimes needless change, it's great to find a beacon of tradition, still holding out.
Thank God for De Paz!
(Special thanks to Dante and Dario for their help and kindness beyond the call of duty and thanks to Mrs Weejun for the in situ photos)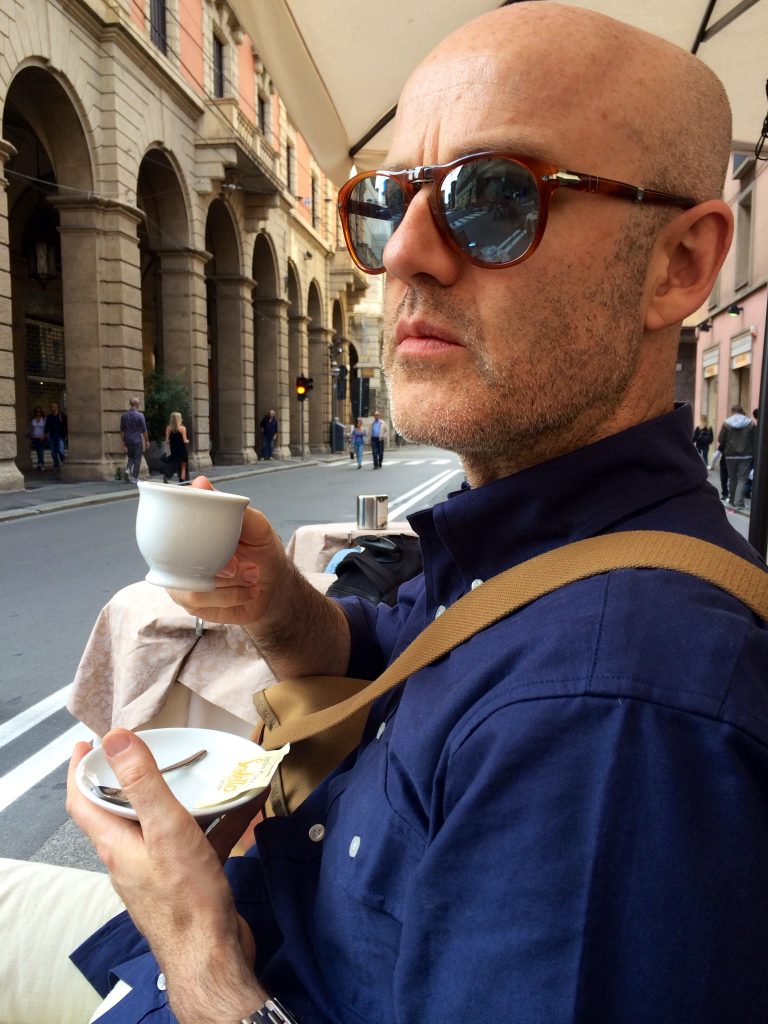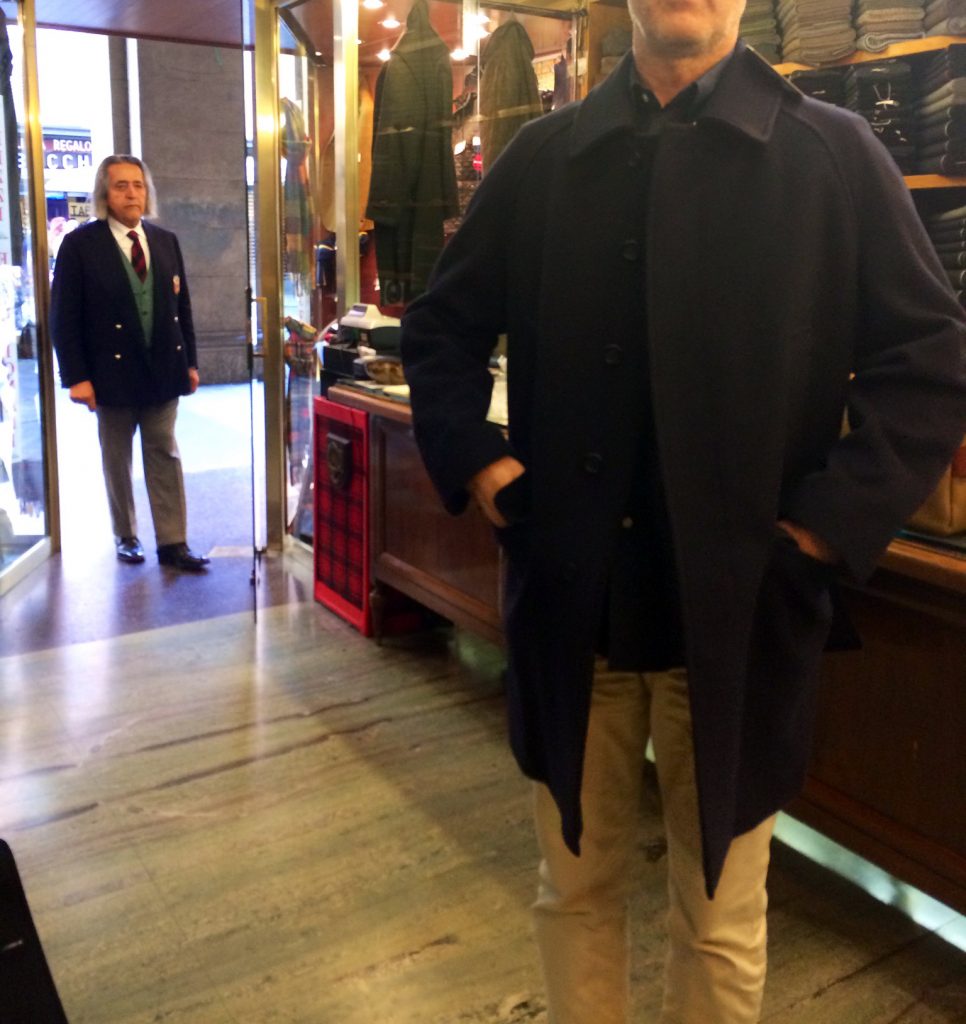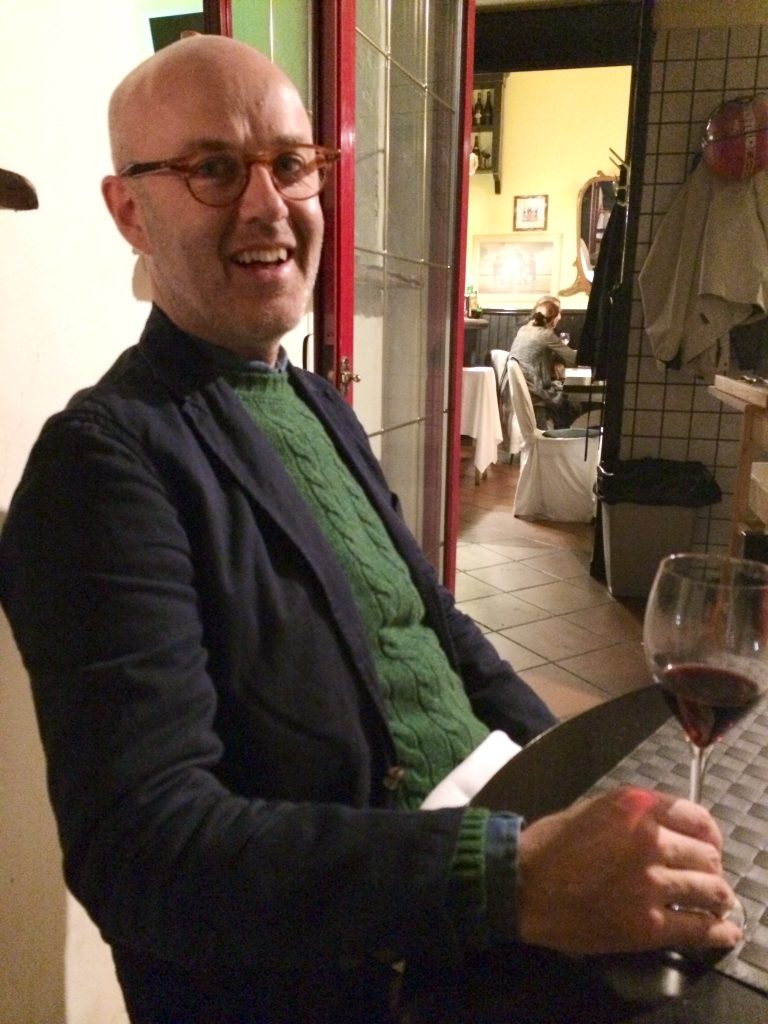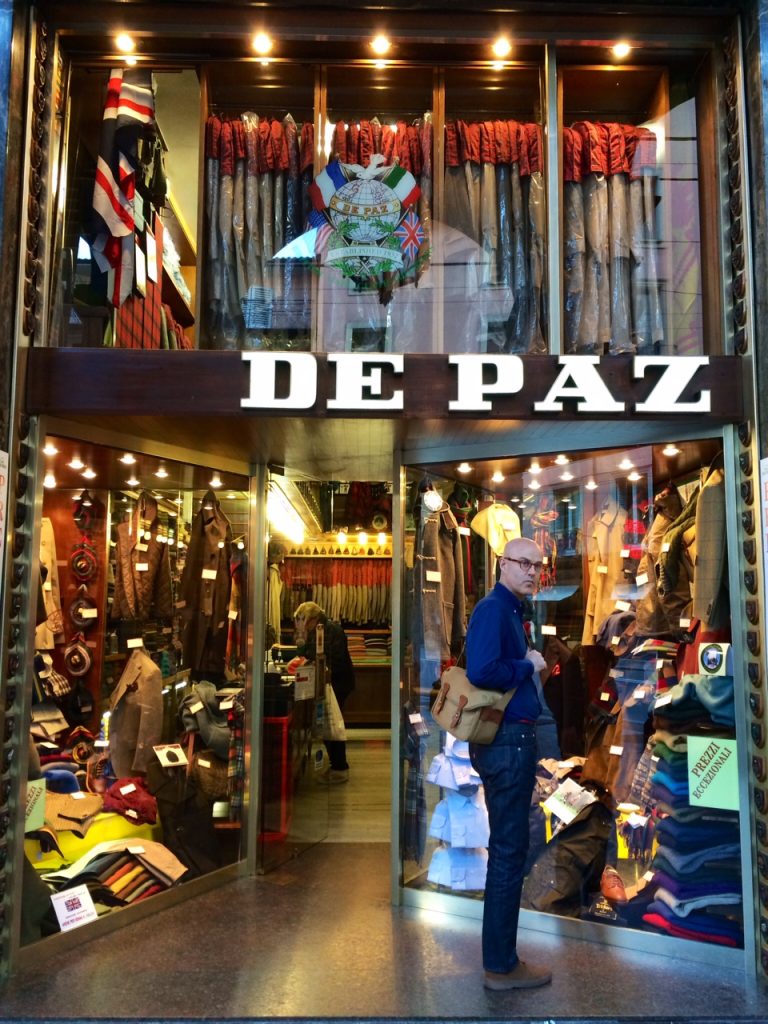 This error message is only visible to WordPress admins
Error: No feed found.
Please go to the Instagram Feed settings page to create a feed.