Hutton Playtime in Hollywood – Five Miles From Midnight 1962
Ok so this is an interesting one. To be filed under 'actors wearing their own shoes and not giving a damn about continuity'.
Perkins is the male star of this movie filmed on location in Paris, but I'm guessing that Tony had limited days to work on Anotale Litvak's French Noir. The story follows the tradition of American trash crime novels being made into movies by auteurs. Litvak was definitely a director with his own style, making classics in France, England and the US.
Having made Goodbye to Love the previous year 1961 (yes, I took the name for one of my songs – the melody actually came to me whilst watching the movie!) Litvak again cast Perkins this time with Italian bombshell Sophia Loren. Loren could act and in Five Miles she is very convincing as the long suffering wife of narcissist Perkins.
So, now we come to the oddities in this movie when it comes to Hutton Playtime. Yes, we see Perkins' well worn leather Playtime throughout the movie – screen grabs of which you can find below.
The opening of the movie was clearly decided after shooting wrapped.
How do we know this?
Because the guy who steps off a bus and into the rainy Paris streets in a raincoat is meant to be Perkins. But it isn't. Not even remotely his body shape or size.
And, because Tony wears his Playtime throughout the film the continuity person presumably pointed out they needed the stand in/dummy Perkins to wear the same boots.
Clearly, none were to be found because they obviously made up a pair from gaffer tape and rubber galoshes.
Now, I can spot a pair of Hutton Playtime in the briefest seconds of a movie. I have eagle eyes when it comes to beloved boots. So, I got really confused with what the stand in was wearing. In some shots they literally look like they're made of papier mache .
Now, watch this clip of the opening. It's pretty but our stand in suddenly morphs into the real Perkins, inside a nightclub coming down the stairs and yes, we have the real Playtime now!

Opening credits with weird fake Huttons…
What's going on with these shoes?
Later in the movie some poor editing has Perkins' Playtimes interestingly cut in and out of shot in scenes where he's climbing out of his Paris apartment window whilst pretending to be dead for an insurance claim scam.

Here we see Perkins in the kitchen feeding the neighbor's cat. Perkins is in hiding because he's supposed to dead.
Someone comes to the door!
Perkins climbs out of the window in a pair of Gibson shoes, and comes out wearing his Playtime. How did he do that?
You can also see his Hutton Playtimes in the lobby card image below!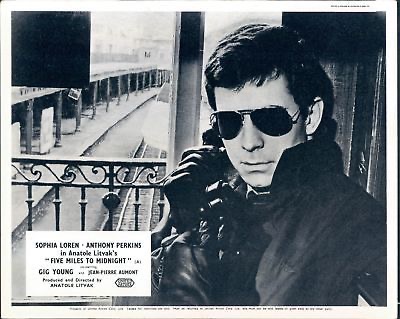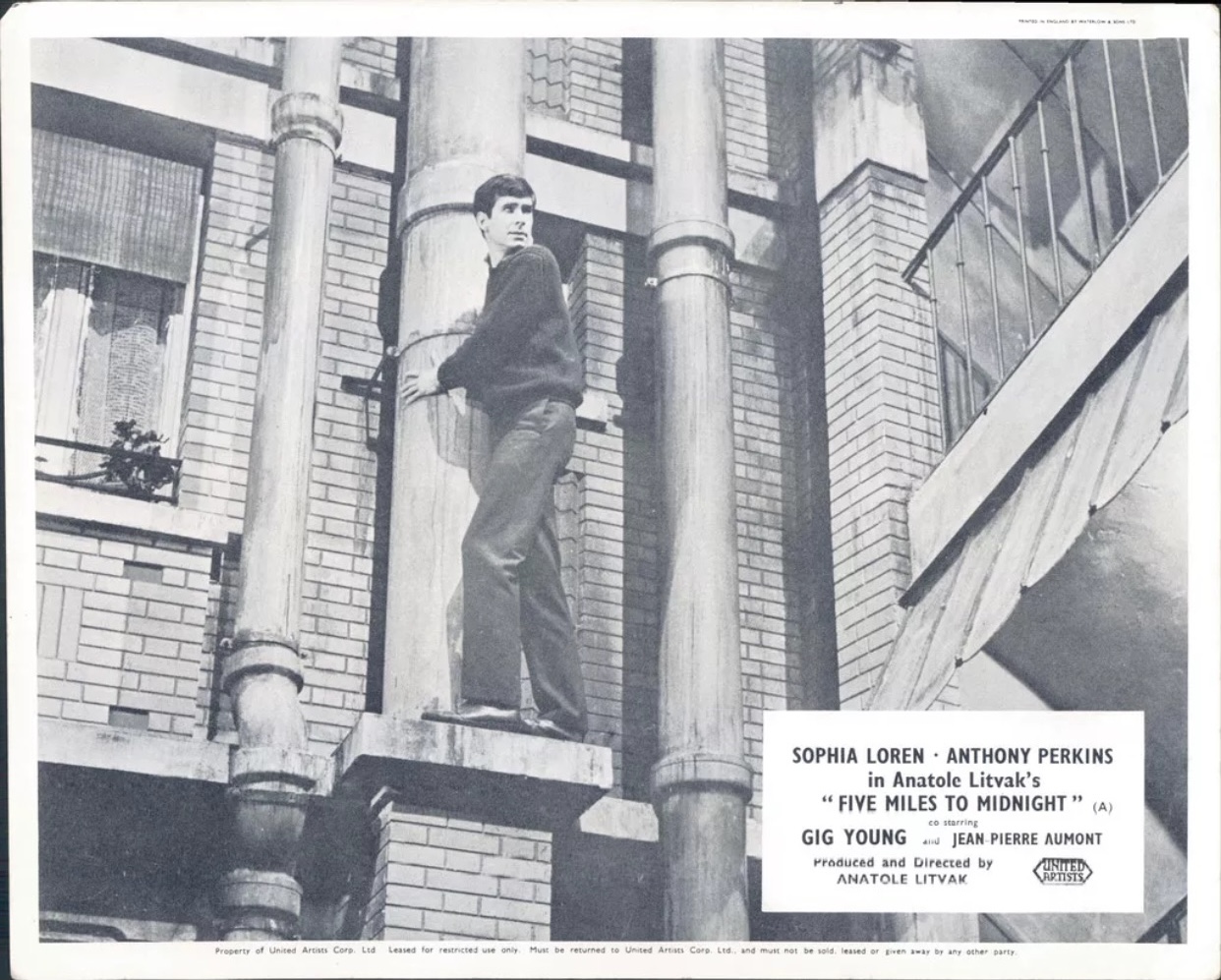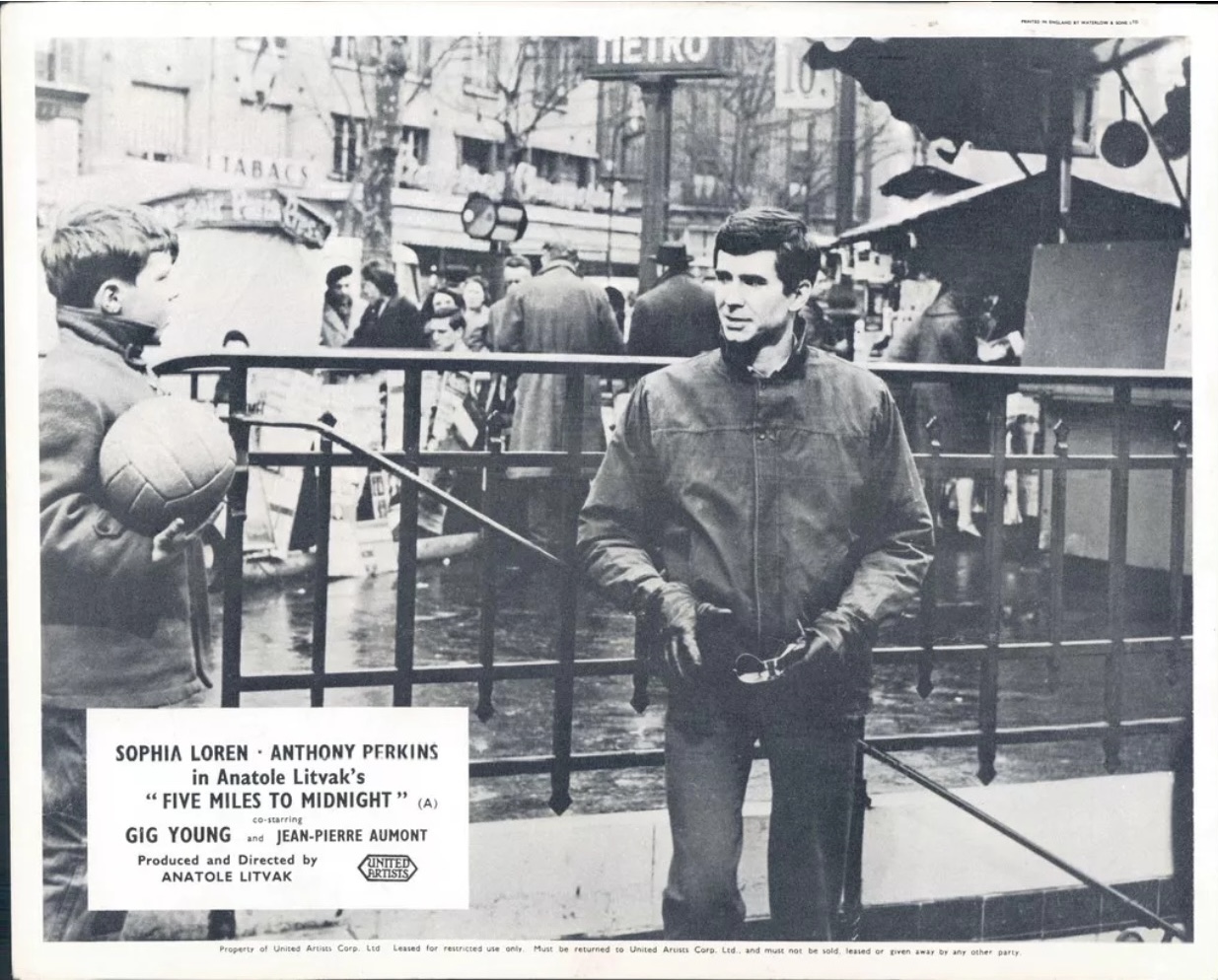 Sophia Loren touched our boots!
End of the line for Perkins and his Playtime...
The last time we see Perkins' Hutton chukkas are when Sophia drags his dead body (she's run over him in her Simca Aronde Plein Ciel coupe no less than three times!) and drops him into the river.
This being 1962 of course Sophia has that kind of moment at the end where she tells all to Gig Young to get her punishment, like in those Alfred Hitchcock Presents where Hitch cleverly let the story end with the villain winning, but would also tell how 'they got caught and put into jail' afterwards.
Simca Aronde Sports Plein Ciel
Even though this post is about Hutton in the movies, it would be remiss of me not to include two rare classic cars that both co-star in the movie.
Simca Aronde Sport Plein Ciel - a luxury sports car from mid range make SIMCA that featured a hard to make wraparound windshield styled after some American cars. Light years away from the style of the regular Aronde sedan.
And a beautiful Pininfarina Fiat 1500 spider...
Watch the Five Miles To Midnight 1962 Trailor

https://www.imdb.com/title/tt0508196/
Lobby Cards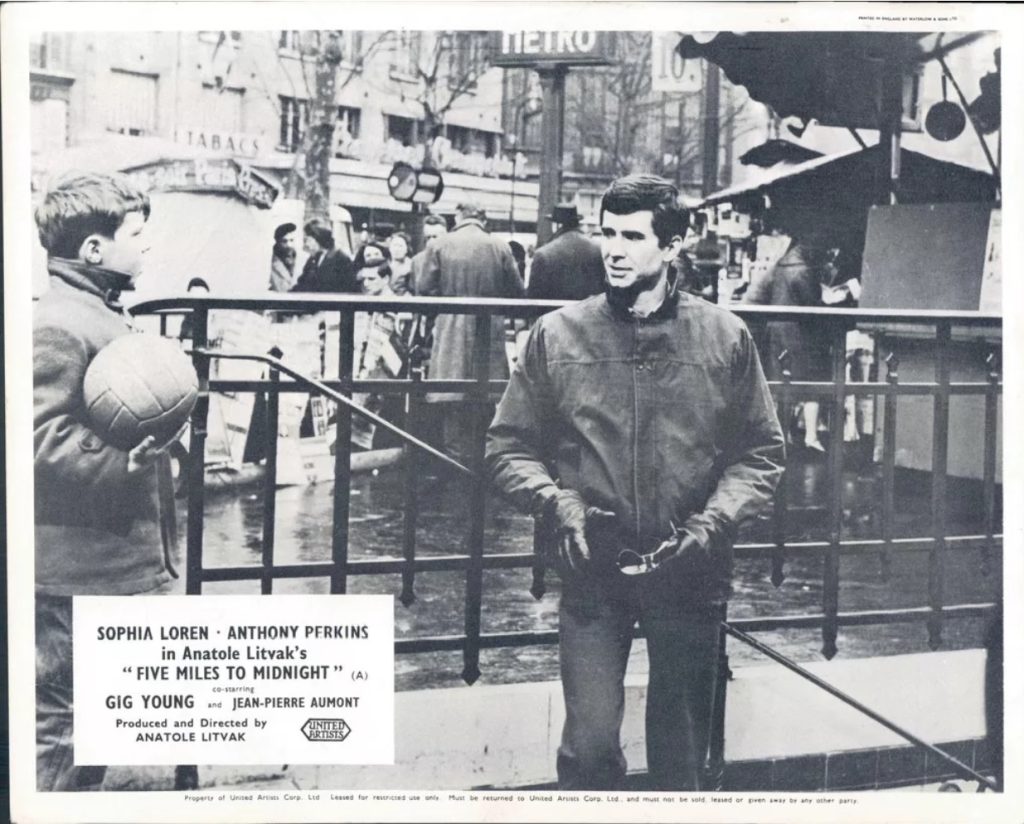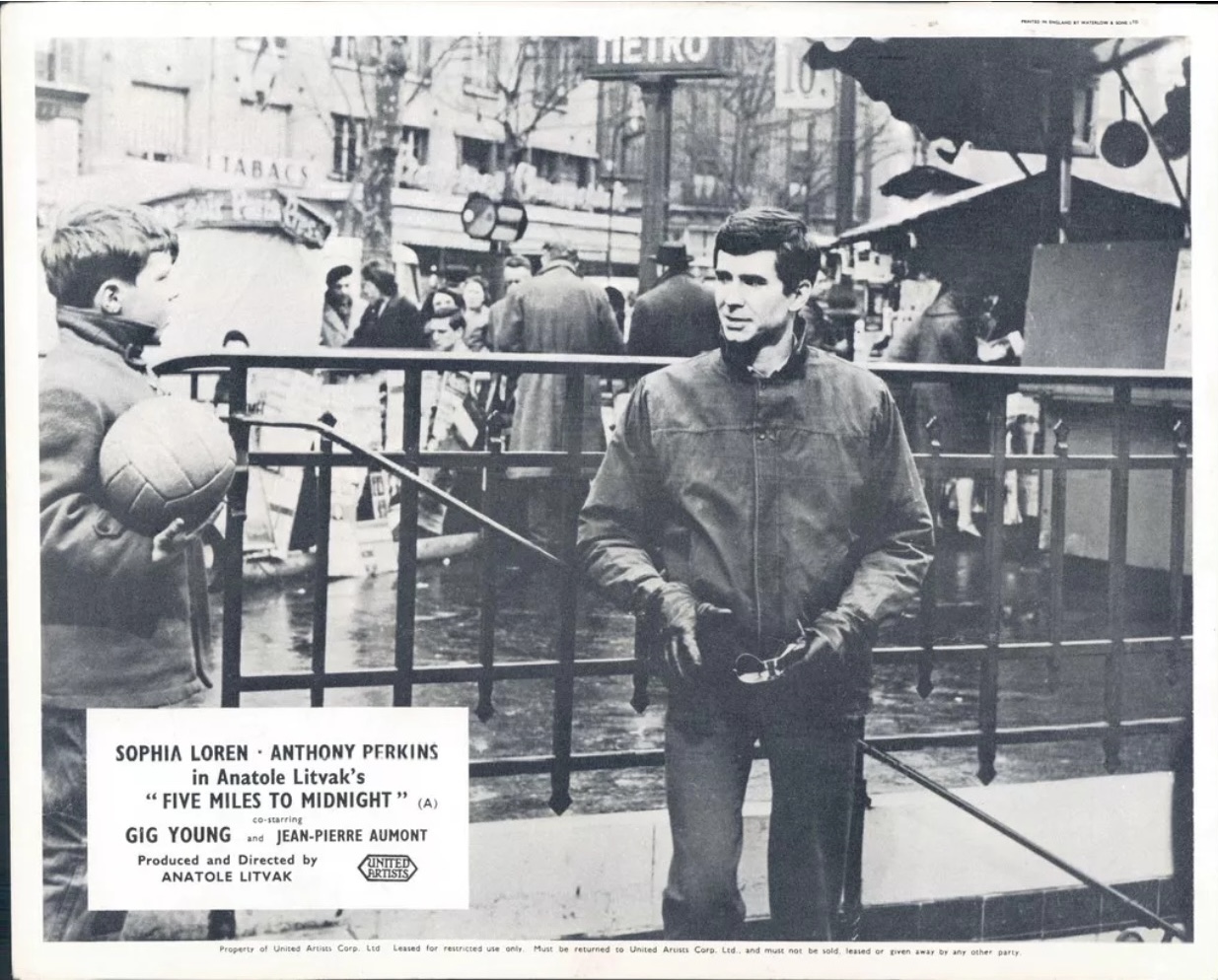 Movie stills (yes, there is a LOT)
Aside from the weird mock up Huttons in the opening credits, and the strange shoes that turn into Playtime, Anthony is wearing his own boots in the this movie. They're kind of beaten up as you can see clearly in this clip where Sophia Loren takes off his Playtime.

Climbing needs Playtime traction...
That lovely Pininfarina Fiat 1500 - nice and muddy, too.
Now he's wearing lace up Gibsons...
And now he's not!
Tony gets into bully mode - well he's definitely a narcissist in this movie.
Those Ray Bans...
See ya later! Check for 2 sec walk on by future tough guy Lino Ventura!
There's a flat tire so you better jump out.
How come Anthony didn't see this coming. You can't blame Sophia, though.
Curtains for Anthony and his Hutton Playtime.
This error message is only visible to WordPress admins
Error: No feed found.
Please go to the Instagram Feed settings page to create a feed.