Over the years one of the things I've found it hardest to source have been ivy sports jackets, especially jackets that can be worn in a non-ironic sense for everyday work amongst the great unwashed of non-converts. I've had dozens of sports jackets going back to around 1981, but almost without exception the sizing has been annoyingly off in some way – enough that eventually they get sold on. The few exceptions (often being in excess of 40 years old) get worn out quite quickly too.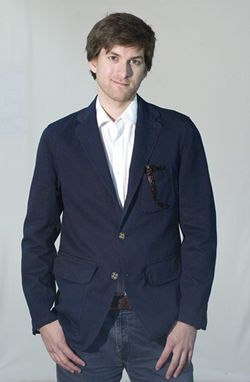 The first time I saw the J Keydge jackets at John Simons old store I wasn't that impressed. The reason is quite easy to understand. A totally unconstructed, uncomplicated jacket that looks like a wet rag when not doing it what it should – i.e. being draped over a suitable sized body. Compared with countless other jackets that look great on the hanger, but perhaps not so great on the wearer (at least on me), they just seemed a bit too Dad style. And I don't mean that in the post modern ironic Japanese sense either. More in the German businessman with washed out jeans and Crockett & Jones loafers with a crumpled linen jacket style.
However, a couple of years back I was handling some goods from JS for Fred in LA (our personal two-way courier service) who just happens to be the same size as me, and there was a navy cotton Keydge jacket in the bunch. I gave it a quick try on just to see, curious about them.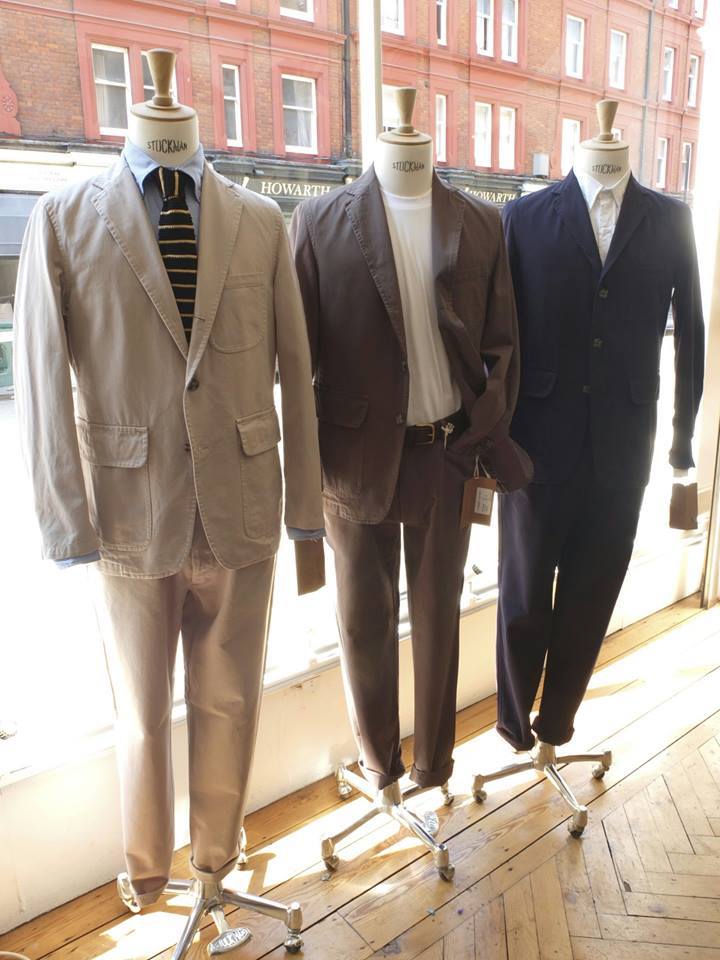 I was amazed. This limp floppy rag, (being unlined it's hard to pull over flannel shirt sleeves!) draped like I'd worn it for years. Even Mrs Weejun whose usual reaction is to laugh or scorn the countless eBay purchases, thought it looked like I 'arrived wearing it'. Like many of you reading this (especially if you've experienced the search for J Keydge), I've become addicted to them. Almost always being slightly disappointed on first sight of the jackets in whatever material or colour, but then upon wearing them being hooked.
Alas, being hooked on J Keydge jackets brings its own troubles. In a world where those of us in love with Ivy Style search high and low to find vintage or deadstock examples, ever harder to find, buying a jacket from a modern up to date Paris based company should be relatively straightforward, right?
Well, that isn't the case. The company itself seems to have had a chequered past, been into liquidation in recent years and then resurfaced around the time John Simons' new store in Chiltern St opened. Despite (or perhaps because of) John not really being involved in the online world to any degree, many of the products he stocks are incredibly hard to source even for those of us with super search skills and no fear of global ordering. Keydge is one of them. A small company for sure, they seem intent on remaining a near secret by hardly having any stockists (despite constantly selling out of their key items) and a website guaranteed to be 2 seasons out of date.
Last autumn the word went around like lightning that JSA had received a batch of corduroy Ivy jackets along with some in a tweed so soft it was like wearing a cardigan. From the previous season's sell out demand, John and Paul had ordered significant numbers of these winter models. Even so, they sold out some sizes within days, others in a few short weeks. You'd think that with the mothership being nearby in France they'd have some recourse to reorder during the season – but it does seem that Keydge have issues when it comes to estimating demand.
Take the aforementioned cord jackets. The month following JSA getting the cord ones in navy and olive, the Keydge site was suddenly updated with other colours, including tan and apple green and the option to buy direct. Having just spent nearly £750 on three from JSA, I thought it was a bit over the top to buy a tan one from the Keydge site. A mere week later I repented (you know how hard it is to find things you can wear without thinking and that fit well) and decided I would stretch to a fourth one, even if it was just to put away for the future. (At my age I'm not going to be suddenly dressing like a rock star so I often buy an extra item to put away for the future, something of a hangover from vinyl collector days).
No such luck. The website had sold out of most sizes within one week. You might think this was an extraordinary run on a suddenly in-demand style item? Not really. Because for every classic ivy jacket in great colours and material Keydge seem to have at least two styles aimed at …. well, God knows who!
The pictures on their website often show pouting bleached Frenchmen with the sleeves rolled up on the jackets (I know the cuff buttons are working, but rolled up?) and the last 2011 season showed some weirdly 'updated' Sgt Pepper styles, modelled with along with tyrolean hats.
I understand why it makes economic sense for them to produce a model alongside the Ivy that has a suppressed waist – not everyone wants an un-darted Ivy version – but the standard Ivy Slack jacket is a model that sells out without fail, in every colour they produce. Common sense would suggest making more of what sells and less – or, better still, none – of what doesn't.
Compare the demand for the Ivy Slack Jacket with these bizarre versions that are still available on their site 9 months later in most sizes and discounted, and it makes you question what they're doing. John Simons told me yesterday he thought they were trying to please too wide an audience. John knows well of what he speaks. Supplying a niche market with exactly what that market wants has been his stock in trade for over 50 years.
If you search Keydge online you'll simply find a few real links (their own usually out of date website, some threads on FNB, and currently one Madrid based retailer) but mostly false positives of the type that scrape keywords into nonsensical webpages and then try to infect your laptop when you click on them.
In this day and age, even the smallest niche retailer can find a very satisfactory market, globally, and at such a tiny fraction of the cost of even ten years ago (retailing via WordPress with Paypal for example costs buttons) that it is sad to see a firm with such a great product as Keydge almost without presence online. Now, it's been some time since I went to Paris, and maybe they supply the countless tiny menswear boutiques that still exist all over France (and Holland, Spain, Germany etc) where men with some idea of classic style are prepared to pay reasonable prices for classic clothes bought locally. And those stores are probably not online, but somehow I don't think that's the complete story.
Last autumn JSA ordered the Keydge cotton jackets with trousers to match, making what could have been the best 'knock about' casual suits to emerge since Brooks Brothers' original wash'n'wear poplin in the 60s. Navy, tan, olive and seersucker. A no brainer, right? Unfortunately, very late in the day Keydge said they would be unable to supply JSA with these, along with a whole bunch of other stuff they'd ordered. So far, they've had the cotton Ivy jackets in last week, and are hoping for the seersucker jackets to follow. For a small retailer like JSA, with a limited budget per season, cancelled orders of stuff that is guaranteed to sell has a huge knock on effect. You can't simply go out and order the same thing from someone else that far in the season.
I really hope Keydge manage to stay in business this time. Based on years of experience of how hard it is to find ivy jackets that work for everyday wear in a modern environment (without looking like an extra from Mad Men) I jumped on the train yesterday, the first day JSA was open after Easter, and bought a tan and an olive cotton version. On the train home, I had buyer's remorse. Not that I'd bought too many, but that I hadn't bought the navy as well. I called Paul from the train and asked him to put aside another navy for me.
Because, guess what? they've nearly all sold out already in some sizes, and who knows whether we'll see more of these Keydge jackets in the future? I really do hope so, but I for one, am taking no chances!
The tan, olive and navy cotton Slack Jackets are available from JSA for a bargain £159, whilst stocks last, as they.