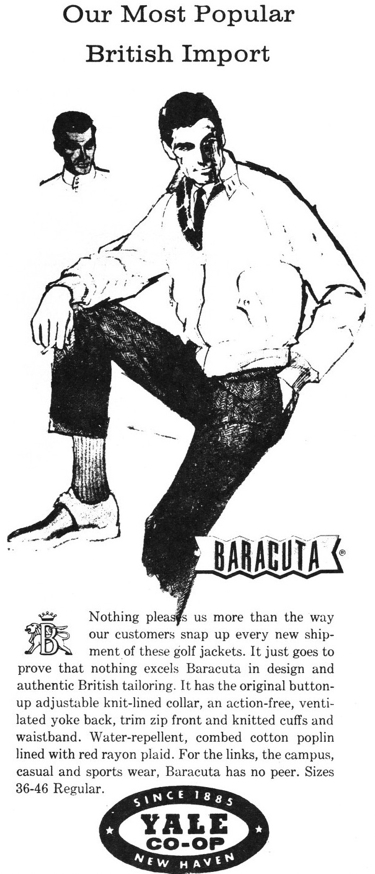 (This was an unpublished post from 2015 but warranted publishing I think – The Weejun)
I've been meaning to write something about the Baracuta G9 for some time. One of the problems is that I love the jacket, and all it's details and history but am ambivalent towards the company itself. Why? Because like some other British icon owners (Clarks, Fred Perry) they've gone down the slippery slope of believing that oik culture is where their future lies, without understanding that its the very breadth of their icon's history across multiple cultures, fashions, styles and youth tribes down the years. By choosing to focus all of their product development and marketing on this one (mostly lamentable) interpretation is extremely short sighted.
This is also part of the British reverse snobbery that says the lowest common denominator is to be cherished, rather than in say, Italy, where everyone has aspirations to a better way of dressing.

It's no accident that Baracuta sales were ring fenced by the Italian distributor, who despite selling street tat like Miss Sixty understood that the Baracuta has always been an aspirational item and the retail price in Italy, along with the profile of stores in which it was always to be found was definitely higher end.

There was a comment on FNB some time ago from forum member Jesmond that hit the nail on the head with regard to the peculiar lack of confidence in their own history that these manufacturers have. "We went back into our archives to bring back item X" with the small print reading, "but we are clueless as to why anyone would want to buy that so we've modernised it/jazzed it/shortened it/made it in techno fabric" and so on. Nothing wrong with reinventing/adapting these things, just don't bullshit me that it's archival!
If the clothing sector is anything like the footwear sector in this country, it's run by people who don't even wear their own products – which they consider too upmarket and too expensive.
Last year I was at the Trickers factory when a senior manager of the old school came into the factory shop to ask for his once a year freebie pair. He gleefully showed me his disgustingly trashed oxfords with the soles literally falling off and boasted "I only have one pair of shoes. I wear them into the ground and then get another".
I couldn't help myself. The obsessive's Tourettes in me kicked in with "And you f****ers will wonder why you're out of a job and blame everyone else but yourselves. If you don't wear your own products with pride why do you expect anyone else to?" The always well turned-out David in the factory shop gave me that look of "I wish I could have said that".
Contrast that to the high end Italian shoe factories I've been to where the owners actually love and wear their own products. (We've seen this malaise on TV with chef Rick Stein apoplectically berating British fisherman who catch wonderful fish and then explain that 'we don't eat this stuff, we only sell it to the Spanish', at the same time as eating a Ginster's pasty)
The result is that some twonk in the 'marketing dept' tells the owners that there's new band who are wearing their product in an ironic manner and wouldn't it be great if all their products could be targeted at that one demographic? What an old friend of mine in Rio used to call 'the Kula Shaker factor' after the British obsession with the latest crap band who win every award and then disappear without trace six months later.
I knew this would turn into a rant, and perhaps that's why I've not written this post earlier (I can imagine right now the indignant comments from elderly skinheads). But, my point is not that these icons should not belong to that demographic, but it shouldn't be exclusively. Look at this Japanese retailer of the Baracuta G9 and G4 – sold amongst traditional clothing in wonderful colours. Compare this to the crap that Baracuta sells on its own site. I say crap because the 'street' style is the ONLY version that they now adhere to. Sure, they have the MiE original G9 but they don't bother with the colours, and they probably only have it because of the demand from Italy, Japan and certain traditional retailers in the US like O'Connells and Ben Silver, who take pains to point out their models are Made in England.

Until a couple of years ago you could be sure that amongst the mod or street versions they would produce the odd gem, it wouldn't sell to their teen demographic and could always be picked up in their online sale. In the past couple of years though, I really haven't seen one that would make me buy it.

Where are the classic suede jackets, proper corduroy ones, the Four Climes style with padded lining? The 70 years series was an attempt at least to produce a jacket a bit more like the Japanese model, slightly slimmer than the Original model but without that horrible cut down collar the UK Slim Fit version has. But then they put these slogans inside them, the like of which have never been seen outside of a manga comic (or 1980s Et Vous branded jeans – the label which read 'Look At Your Good Self'). I have the navy one, but I won't wear it anywhere that I have to take it off and expose that stupid graffiti inside.
The Baracuta brand has now been sold to WP in Lavoro, who are Italian at least, but at the same time borne of the 80s Paninari craze and somewhat slavish to street fashion themselves.
My problem is not with street fashion, nor with whoever chooses to wear anything, but the lack of foresight and brand curating skills displayed by these companies. An intelligent brand manager looks at how to address all the markets the product is active in and develops its strategy to follow.
It's no secret either that the few iconic British firms that survive do so because either the Italians or the Japanese kept them going during the darkest days. Left to their own devices these owners have always been clueless. As a 19 year old I worked part time in the original Blazer store in Long Acre, Covent Garden when it was a two store private business. The owners would regularly look to the sales assistants for guidance in what to buy (mostly they didn't listen). This would have been 1986 and there was a consensus that Baracuta G9 jackets would be a good thing to stock, partly because if you wanted one there was almost nowhere you could get them.
Now in the internet age, it's hard to believe, but back then it was almost impossible to find them in stores in England. The Blazer owners duly made the trip up to Manchester to place what represented a big order from a UK retailer (and one who was aggressively expanding at the time). However, they came back empty handed. Quite rightly convinced by their staff that these jackets should be like the originals and 100% cotton shell, that's what they'd ordered, only to be told by Baracuta that polymix what was their customers wanted and needed and they wouldn't be prepared to make them in cotton because Blazer customers would surely complain as they, too, would want polycotton, even if the owners were too silly to know this. I relate this story only to show that this kind of trend is longstanding amongst manufacturers of British iconic clothing and footwear.
You see it's hard for me to write about this stuff without getting annoyed, yet the very thing that got me started today was finding this great article about the jacket itself and the place it held in the Ivy style boom years in the USA. A number of iconic British products were of course kept going post war by the Americans, long before Japan and Italy held that post.
The Baracuta being so popular by the mid 60s that the owners licensed the name to Van Huesen for the North American market, who then promptly made cheap polycotton versions in Hong Kong whilst Baracuta continued to export their Made in England models using the Four Climes brand. Talk about cannibalising your own product.
With that huge market out of bounds it was only going to be a matter of time before Baracuta struggled. In the 1970s until the 90s you could find all kinds of crap branded Baracuta – Milletts or Mr Buyrite level product. The resurgence of vintage style was obviously a welcome bonus to brand, (who once again had licensed their most lucrative market in Italy rather than sell direct). I'm all for fashion helping out an ailing business if brings money into the coffers. Where it starts to go all wrong is when these brands believe that "Kula Shaker" is here forever and have no concept that aligning your brand so closely with one small aspect of style culture (witness Baracuta's This is England revisionism) actually damages the long term heritage by alienating the core long term market.
As Jesmond rightly alluded to, these brand owners will go on and on about Steve McQueen but they'd rather forget George W Bush wearing his G9 or Quincy, or Mr Llewellyn the geography teacher, or any of the myriad 'non-cool' wearers that actually make up the tapestry of a products iconic status. Clarks Desert Boots are so great precisely because Terry Thomas wore them as well as 'Terry McCann'. Utility items become iconic precisely because of their usefulness and democratic status. These items no more belong to This is England alone than they do old codgers on the golf course, or old men whittling wood. In fact, I'd go so far as to say it's precisely This is England that now makes the Baracuta brand so naff, not George W Bush.
Oh, by the way, I have thirteen G9s and two G4s, that I wear regularly. All of them were models made for the export market and sold off by Baracuta for peanuts, either on their webstore sales or through their pop up store in Seven Dials.