I know, I know. Months go by without so much as a mini-post and suddenly there's a best and worst of the year? What's that all about? Lack of free time is what it's all about, dear friends of the 'ox blood' loafer. This year I've had so little of it.
Now, that midway point between Christmas and New Year suddenly presents itself with some moments to reflect on the personal good and bad of American style clothing as it happened to me in 2012.
This is, remember, a personal view.
Ten Great Things
1. Alden Cordovan PTBs from Citishoes, NY.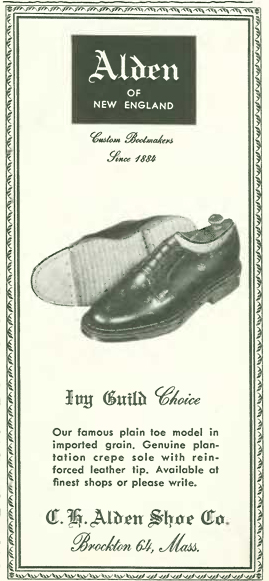 After a lifetime of obtaining almost all my footwear on Woody Allen terms – that is never paying retail; it's a sin –  I finally dropped some $780.00 on a pair of Alden Plain Toe Bluchers back in September.
It's not that I have an issue with the price of them, more that Alden lasts are famously contrary in sizing and whenever I've paid full retail for good shoes (JM Weston loafers in the 80s spring to mind) I've ended up with shoes that didn't fit, the purchase often being made after a feet swelling air journey.
I was determined not to do this with Alden but by the time I'd made my mind up to buy the PTB model (my original aim going back over thirty years) I had a comically hard time physically buying them. The Alden store on Madison closed at a stupid hour on a Saturday, J Press don't carry widths, Citishoes (We're Open 7 Days a Week) was closed to religious reasons the first day I tried them. Trying to buy them became a farce in itself, driving Mrs Weejun somewhat nuts with my endless 'it's not meant to be' fatalism to every barred doorway. I nearly gave up.
I did think about buying the Brooks model, the one with the visible metal eyelets and no stormwelt – after all it looks great on Tony Perkins in the Hollywood & Ivy Book – but in the end I held off for the classic Alden version in colour #8 shell cordovan and made one final attempt to buy from Citishoes.Ironically I also managed to guess my size in the Barrie last at first attempt, so I could have bought many pairs by mailorder over the years, but there you go.
Back home in London, I could not believe how incredibly soft and comfortable they became on the very first outing. Compared with my Church's Chapel (the PTB model usually called Shannon but made for export in calf instead of the plastic covered 'bookbinder' that Church's continue shill to those who don't know leather), they are light years ahead in comfort and, well, they're just 'right'. Never one for shiny shoes, I'm looking forward to them 'blooming' over time and get a touch more matte.
2. J Keydge finally getting their sizing and cut together in 2012.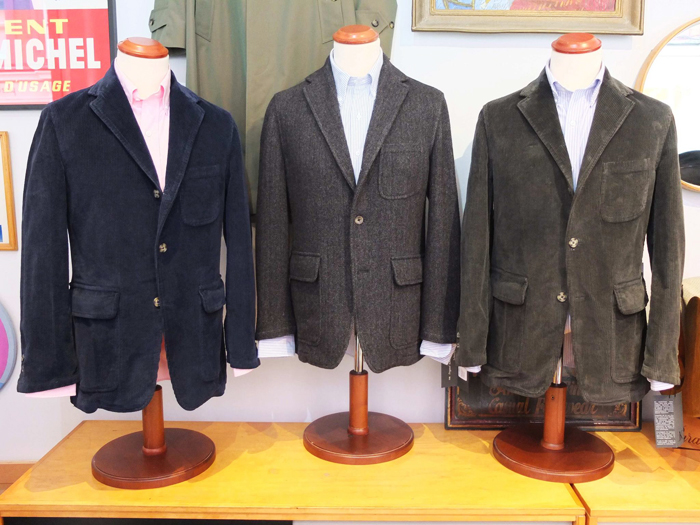 Both the summer jackets and this season's wide wale cord versions were spot on. Gone were the over wide shoulders and in with a slimmer silhouette (without looking like those horrible Krankies blazers that every single brand is churning out these days – don't get me started on Brooks Brothers). The piece de resistance this year was coming across the last but one 'moleskin' navy jacket at John Simons only to realise when I felt the cloth that it was the cashmere model. Already hugely reduced in price and given an extra incentive by Paul Simons how could I refuse?
3. Gant Rugger summer sale.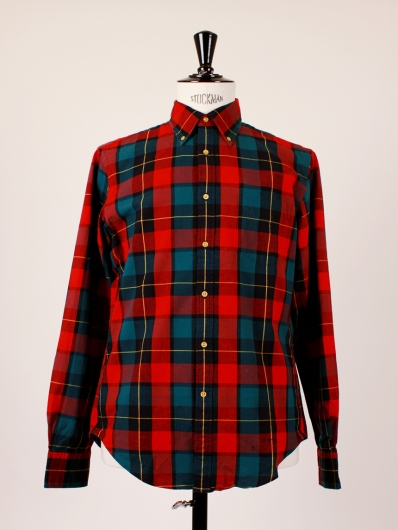 This may surprise many readers here, but I think the Gant Rugger shirts are as close to the 1960s ivy boom years trend that it's possible to buy in modern times. I make this distinction as being different from the Brooks Brothers traditionalist Ivy – this is the Ivy of all America during the 60s.
These modern shirts are by no means perfect, too short in the tail as a sop to the 'beardy workwears' who don't know how to tuck their shirts in, and the collars could do with being a tad longer in the point (although archive deadstock models from other 60s brands have identical collars), but there are many versions of their shirts that feature fabrics, and especially plaids, that really look like the originals, but with the added bonus of being new and not smelling of fungus or old dead professors. With alpha sizing they need to fit you, but luckily the medium fits me 'out of the box'.
The Rugger UK launch looked like it was handled in that classic manner – head office tells them to do it, they do it badly on purpose, then say 'hey, we told you it wouldn't work here'. The original UK online site was full of mistakes and even missing product that only turned up in some random searches. This June however, someone must have decided to spring clean all that old stock, as for a couple of weeks I kept getting emails with more and more items added to the sale that had been previously marked as sold out or sizes not available.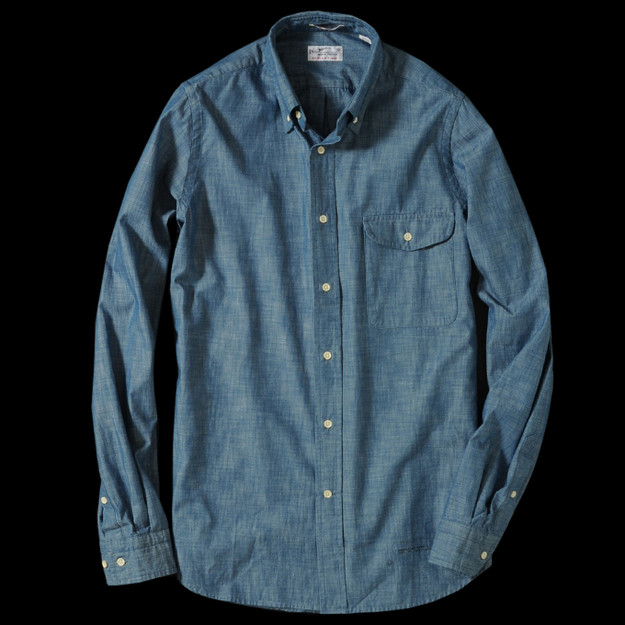 Don't get me wrong, if I need to wear a tie and jacket, it's my vintage Brooks Brothers shirts that I go to first – a tie needs a decent roll, but for casual wear (for example for interesting shirt fabrics peaking over the collars of shetlands as demo'd here by 1966, albeit with original Sero madras), there is little on the market to match them – especially when you pick them up in the sale.
The official merchandise offered by Gant also doesn't always represent the nicer shirts often offered by Rugger in the US. However, these seem to be the models which are sold by diffusion in non Gant stores online in Europe. In various sales this year I must have picked up around twenty five shirts, including some excellent dark chambray Huggers with pocket flaps for £30.. Don't get me wrong about this brand – most of everything else, trousers especially is hideously A&F/RL Rugby wannabe, but taken out of their yoof market arena and worn in the right way the shirts can be excellent.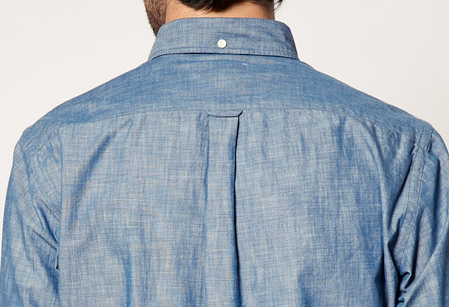 (Cue comments section filling with blah blah not made in USA, blah blah India, blah blah I never buy Made in China whilst typing on a Chinese made laptop/PC/iPad etc).
3. Some Vintage Tartans…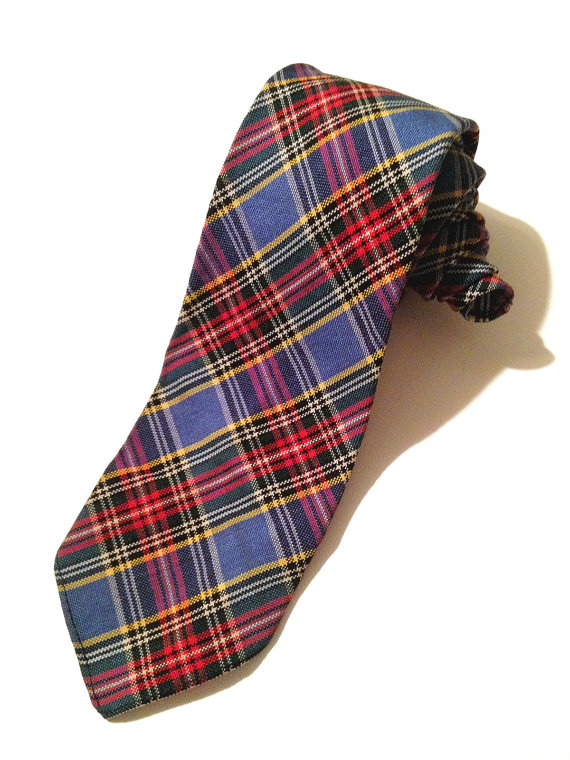 My lifelong seasonal love of tartans and plaids received a boost this year from a number of items – Royal Stewart in the form of vintage Brooksflannel BD and a Johnston's cashmere scarf, and a recently purchased tartan tie from Etsy in Macbeth, one of my favourite tartans that never looks anything but vintage.
Tartans are one of those traditions that received a huge boost from American consumers throughout the 20th century, along with the humble Shetland sweater. In fact, my first knowledge of the names of tartans came from Brooks Brothers catalogues many years ago.
It's funny how tartans, being so ubiquitous in general, can even appear to be from different eras, but truth be told, tartan like everything else follows fashion. Fabric weavers offer variations each season, these get bought and made into clothing and other fabrics fall by the wayside. Who can forget the all pervading influence of Black Watch in the 1980s? By the same token there are others that really give a 1950s/60s feel, being common in clothing in that era but largely forsaken since.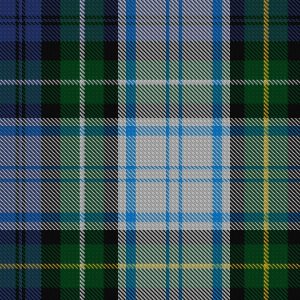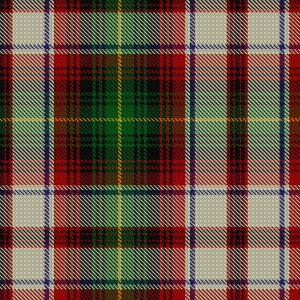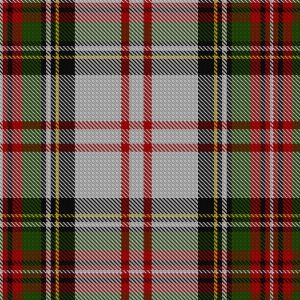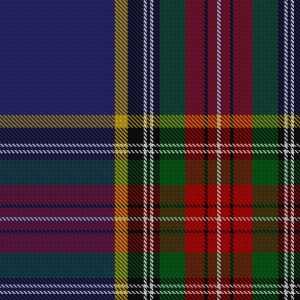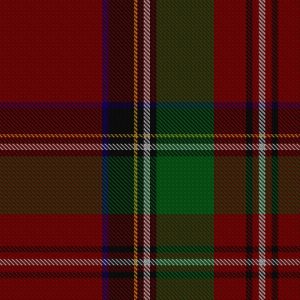 4. DITA New Yorker glasses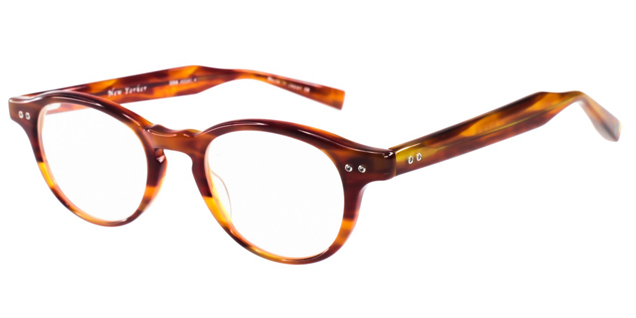 The old Weejun's eyes have been getting worse with age, so reading glasses gave way in 2012 to more regularly worn progressives. The 'always in know'= Herb Lester suggested The Eye Company in Wardour St as the only knowledgeable spot in town and Steve the owner knew what to show me within about two minutes. I ended up with some expensive but timeless DITA New Yorkers, expertly made by aged Japanese acetate miners.
Downside – in week one a girl serving coffee told me they were the exact same glasses Tom Hanks wore ten minutes earlier when he was in there.  Upside – she was damn attractive and noticed by new glasses.
5. Fun with Sperrys

Early this year I had a kind of feeling that the recently re-introduced Sperry 75th Anniversary models on the CVO oxford and the Seamate deck shoe might very well be discontinued by Sperry in their ever wider foray into bastardising their heritage with every more inappropraite fabrics and uneven quality. Sure enough, sizes started getting hard. I asked my proxy Fred in LA to pick some up from the US for me – UK stores only seem to sell alpha sizes in shoes now too. He did but didn't buy any himself.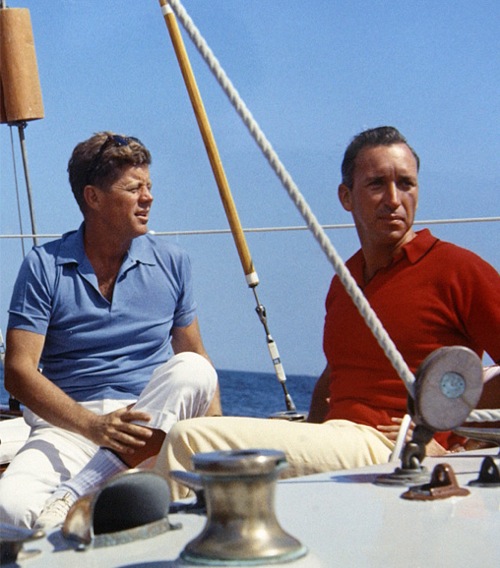 When we met up for an mini Ivy summit in London in late May, Fred decided he needed them too. This started a frenzied search on Google for the last few remaining pairs of CVOs and Seamates. The frenzy spread to others, too. My Ivyist friend over from Dakar fell foul of the vibes of 'buy them now or regret it' and tracked down three pairs in his size. Fred, however, had worse luck – each time he found his size online he'd get an email saying 'sorry we ran out'. One website somewhere down South (Raleigh, NC?) selling trad gear had all the 75th Anniversary models in most sizes. But then it turned out this was a rogue web page from two years ago that should have been deleted.
Then Sperry reissued some more but messed with – instead of the simple unadorned classic, they made them from shirt materials and useless leather trim. The name Heritage Brand is always an oxymoron, isn't it? The current owners of these brands want the glory of the past but have so little faith in their own history that they think if they don't get the latest camp midget preppy designer to 'reimagine' them, that no one will buy them. The mere fact that the 75th Anniversary products sold out everywhere within a year of launch obviously passed Sperry by.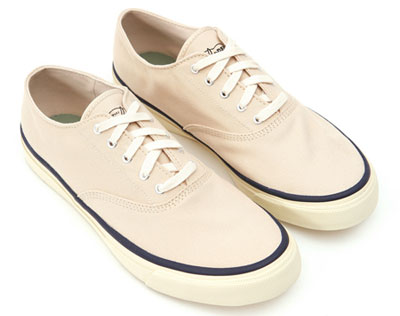 Finally, I found a couple pairs in the very back of the Sperry store on Fifth Ave and Fred managed to get the store to ship them to LA. Shortly afterwards, Fred found a mini stash in Palm Springs and sent me another back up pair of birch CVOs.
It's man's nature to hunt. The fact that Paul Simons on seeing me in a pair nonchalantly dropped in that he'd ordered them from Sperry for spring 2013 altered nothing. The fear of product deletion remains a powerful driver towards hoarding things for the future.
6. Some Vintage 'One-Offs'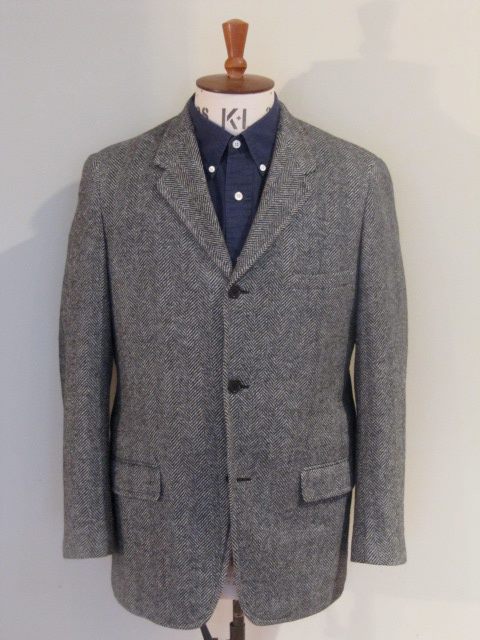 Being friends with ivyists who are as obsessed with clothes as I am often bears fruit. Especially when those friends are slightly smaller or slightly larger. One such piece of luck came via the always clued up Herb Lester. He'd spotted a jacket on the Facebook based store of legendary stylists Lloyd Johnson & Chris Hardy.
To be sure, I'd have spotted this too, were it not for the fact that (despite what may appear to be evidence to the contrary here) I have massively cut down on my clothes purchases this year and therefore set the updates from this particularly tempting store to go straight into the trash box.
However, Herb had bought it (just ahead of Nick Rossi of A Modernist – sorry Nick!) and I knew from the measurements that it was going to be a tad too big for the map meister. This year I've taken to carrying around iphone memos of the exact measurements of some of my favourite and best fitting items in an attempt at avoiding the otherwise constant stream of items arriving from across the water being way off the sizing scale.
Sure enough, a very reluctant Herb allowed himself to part with this beauty. A mid 60s California supplied heavyweight wool herringbone tweed in grey, badged Rough Rider, and clearly never been worn by man or – unlike most eBay items it seems – beast.
7. The Return of the Monk and the Gucci Loafer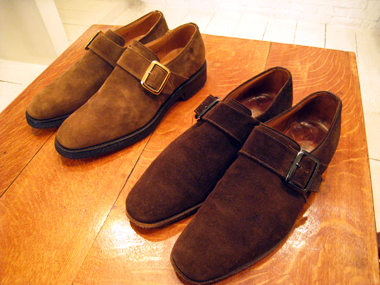 New York was ever less tradtional looking this year than I remember from past visits.
The American uniform of east coast dressing style has been so watered down as to not have survived the euro trash designer onslaught of the 90s/00s. It's there in a fashion sense, but mostly worn by those who have no concept of the history (and the appalling Ivy exhibition of comedy costume items at the NY Fashion Institute helps none) or think it's ironic to wear what Grandpa wore on Wall St.
Wandering around on the Upper East SIde in sunny late autumn, however, turned up a few old gents in Brooks blazers, OCBDs, carrying a proper Made in England Burberry over one shoulder and shod in the shoe of choice of these guys from a select few blocks of Manhattan – the original Gucci horsebit loafer. I say original, because since Tom Ford, Gucci became a pure fashion brand rather than a 'purveyor of classic leather goods'.
However, the classic Gucci loafer is a remnant from an earlier more simple time and one which has long been teamed with classic ivy league clothing.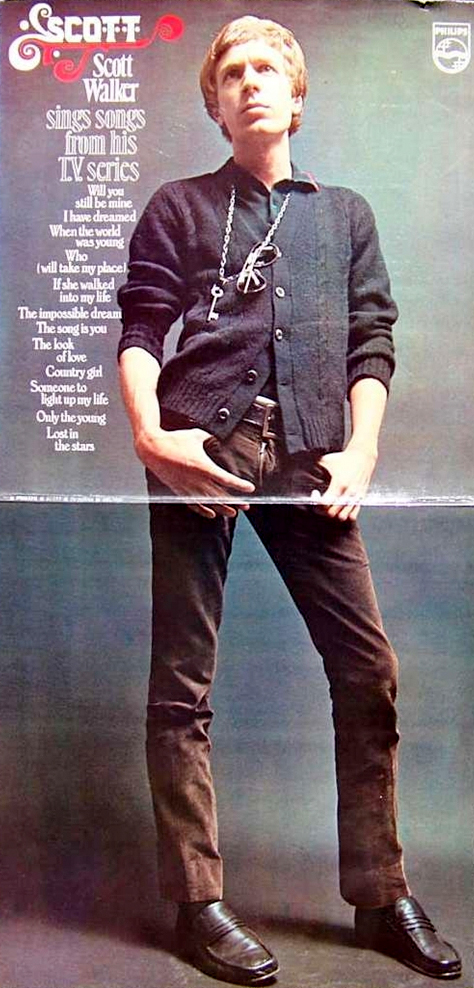 I recently re-watched All The President's Men on Youtube and again noted Jason Robards' Ben Bradlee with his Gucci'd feet up on the desk and reckoned maybe it was time to dig some out again.
I've had a number of pairs of vintage pre-Ford loafers before and they're incredibly well made, heavier quality that most people who've never worn them would imagine, and a great look with flat front grey flannels, or 60s fit needlecord jeans and polo shirt in the summer – witness the cover to Scott Walker's TV series LP – not horsebits but a similar 60s feel.
For a full discussion on the vagaries of bit loafers read this post – warning: it does include some hideous copies!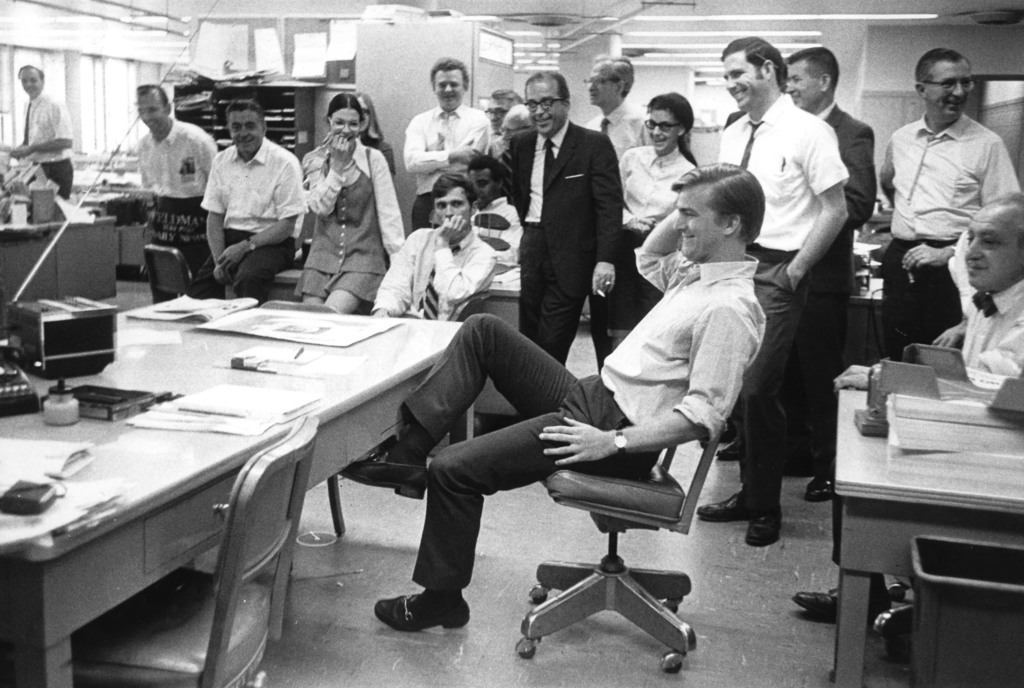 To confuse this iconic shoe with the rest of the output of the modern house of Gucci is to simply lack any sense of history or imagination let alone knowledge of what people really wore back in the day.
The dark brown calf pair I bought probably date from the 1980s judging from the serial number, but the previous owner had the heel rebuilt too high and added a Topy – a sin on any leather sole as rubber as leather do not flex/swell/contract at the same rate leading to undue stress on the soles. A New Year refurbishment is planned at KG Shoes in Camden, the official UK Gucci repairers and one of the few places they will replace soles and channel stitch them as they should.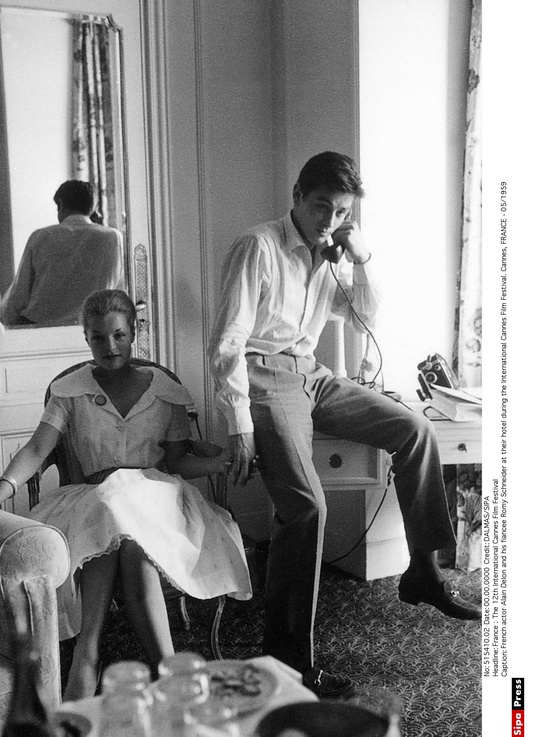 Another shoe that I owned many pairs of years ago but haven't had for a while now, was the monk strap. Again, the classic single strap monk shoe with it's origins as a British Officers shoe, should not be confused with the evil double buckle monk shoe currently being 'reimagined' by dwarves of all stripes in the fashion world. The single strap monk shoe was later picked up by US Army Officers in World War II and thereafter formed part of the canon of English inspired classic footwear, which outside of the Borough of Kensington & Chelsea, considered tradtional in US.
My own history with the monk shoe goes back to 1982 when, recently moved to the capital, I would stare for hours in the windows of Alan McAfee where all the classic Church's models were offered for those of a more louche persuasion than City stockbrokers – in acorn green suede with heavy crepe soles. These were usually versions of Church's long lamented Canon, a true US styled monk with oversized buckle and a squared off toe and a shoe that Church would sell in their New York store to counter the prevalent Florsheim Imperial version.
McAfee was one of the earliest casualties of the trend for 'designer' everything which began in the 1980s. A reverse takeover by one Oliver Sweeney ended in tears and bankruptcy for this venerable maker and store – one of the earliest casualties of designer crap replacing real history and tradition and trashing the brand beyond repair. Churchs continue to make their other monk strap model Westbury, but the fools at Prada decided the wonderful 73 last that made many Church shoes special was 'too old fashioned' and – yes you guessed it – 'reimagined' it as the 100 last.
Herring Shoes down in Devon had seen the demand for the models originally made on the 73 last (a quick trawl onliine finds many such threads) and for the last few years have been offering some of these models via their website.
Reinspired by this image from the excellent Ivy Look blog – a rare Baracuta G9 ad featuring what can only be crepe soled monk straps – I've long been in the market for another pair of suede monks and so when I got the Herring mailshot in December saying they wouldn't be able to restock the Last 73 models, I finally took the plunge. I guess a lot of others did too, as they sold out of most sizes within a day or two.  It's a leather soled model, but I'm going to take them to Church's at some point and get them to resole them with heavy crepe, a la those original McAfees.
8. Full episodes of Alfred Hitchcock Half Hour, Mission Impossible, Johnny Staccato and Peter Gunn on You Tube.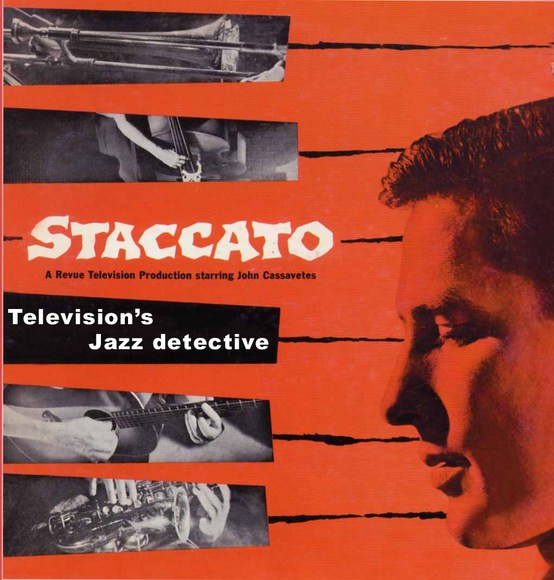 Now I've said that the channels will probably get shut down. So no links sorry.
Great to watch stuff that is never on UK TV – Sure MI was, but I don't think Peter Gunn ever aired here. If it did it certainly wasn't on re-runs over the years. Peter Gunn was my first introduction to Brooks Brothers as a 14 year old finding the original soundtrack album. The liner notes referred to Peter Gunn and his Brooks Brothers style. Hard to imagine but back then I had no way fo finding out exactly what Brooks Brothers was.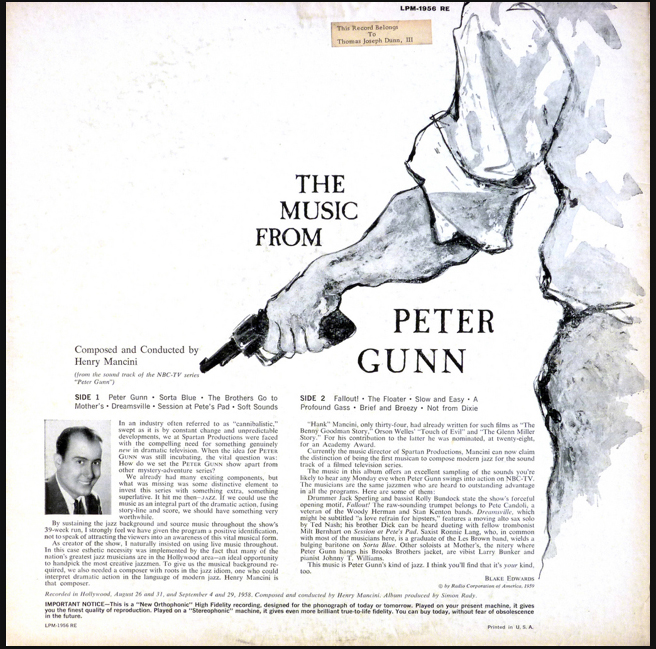 9. The New Yorker Archives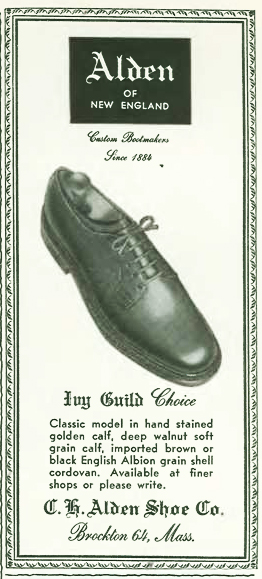 This one could actually belong on the worst list too, simply down to the chronically disjointed experience of signing up (there are countries that are not in the US, Conde Nast), the bad customer service people who just hit the 'send stock email response' button to every query, the app not working properly, the current issues not downloading in the background, the constant signing in needed despite ticking the 'keep me signed in' box, the search working well on iPad, but the links never working, or the search working poorly in Firefox.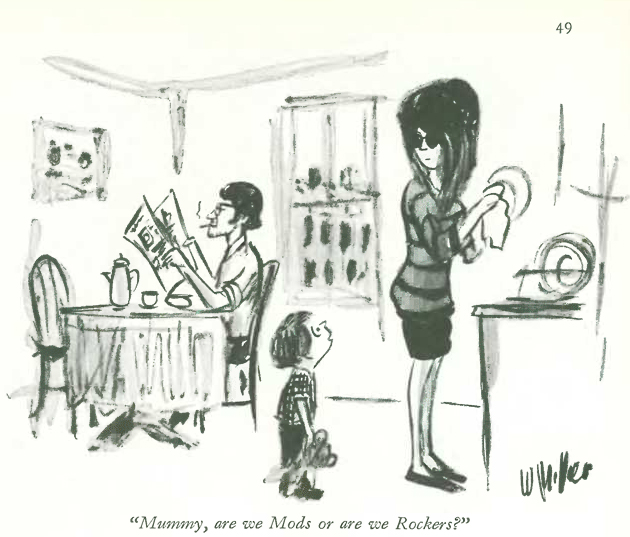 That aside – every single issue from the 1925 onwards is available to peruse online – scanned with all the original ads. Let's face it, this is what we want, isn't it vintage fans? It's the ads that tell us the story of the past. The 1960s editions are particularly fertile for menswear – Gant and Sero shirts, Alden shoes, Barrie shoemakers, Corbin trousers, Southwick suits, London Fog – all the great names are there.
I've spent so many hours flicking through the online pages of the archive editions that I've developed a Ivy RSI.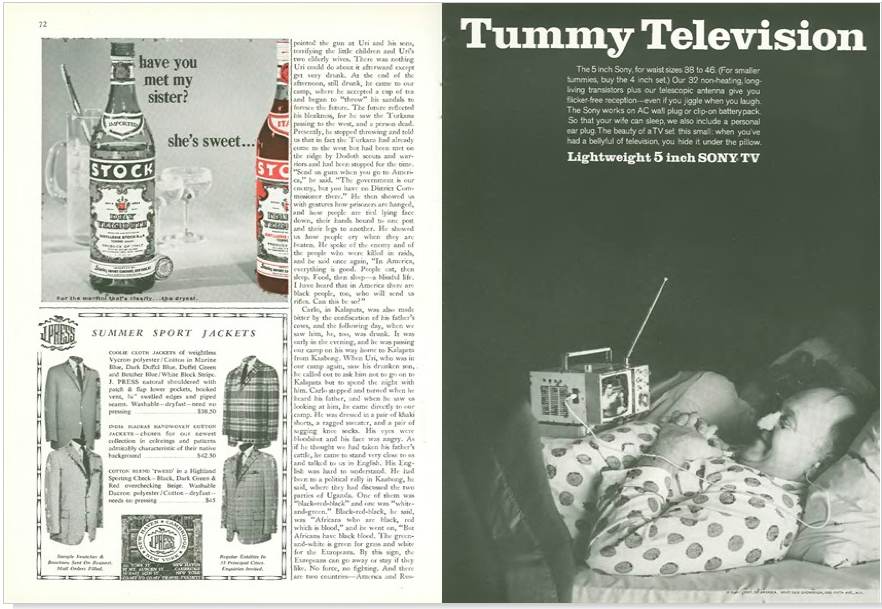 Now if only the Esquire magazine back issues were available online or even Holiday magazine. Although, I'd probably never leave the Weejun Lair again.
9. John Simons Chiltern St
I know I'm in a minority of those 'who were there' when I say I prefer the Chiltern St store to the old Russell St shop, but I really think the shop has been reinvigorated by the move and Paul Simons' initial uncertainty about getting very involved in the running of the shop thankfully seems to have been overcome and he really seems to be enjoying his role as successor. Big shoes to fill but I think he does a great job.
10. Vintage US Made Bass Weejuns Can Still Be Found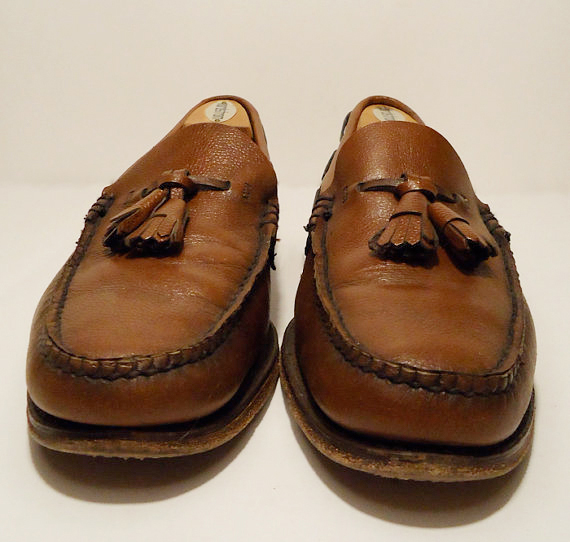 This year I've not been buying so many pairs but I have been helping friends when I see some special pairs for sale. I was lucky enough to find a super rare 1970s tassel Weejun in honey coloured scotch grain on Etsy last month. They arrived a little 'mullered' but are being restored and already looking pretty good.
A word to the numpty seller though  – the number 1 followed by another number 1 means the size is 11, not 10 as you insisted. I don't know, you can't get the calibre of vintage sellers these days. Still without the 'vintage numpty', we'd never find those amazing mis-described vintage gems that everyone else missed before the auction closed.  'Crap Soul Swede Rockabilly boots' anyone? Nice playboys.
Ten Not So Great Things
1. Dead Man's Vintage Smell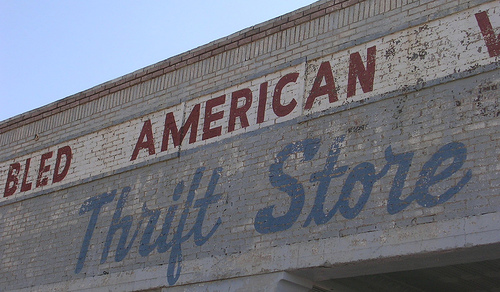 Even the most die hard vintage clothing enthuast must at some point admit to having suffered overload from an excess of dead man's vintage smell. That sickly sweet odour of decay formed from the molecules of vintage clothing items containing unknown amounts of random foreign atoms – ketchup, tobacco smoke, park bench dirt, snot, baby sick, blood, puke and other fluids that shall remain nameless.
Some of these body fluids appeared on a couple of items I bought earlier in the year from a well known vintage dealer. His description hadn't mentioned the indelible orange yellow stains of vintage sweat and urine which covered both the (non-related) items. At least I think they were non-related – perhaps they came from the same hot sweaty dead guy who defecated during his death rattle. Yes, vintage doesn't mean new and pristine, but urine stains really do need to be cleaned out or noted.
Morbid stuff I know, but for some reason I'd always suffered in silence with my dislike of the nasal burning tang. Other friends steer clear of vintage clothing for the most part, due to the smell that goes with them.
Now, if I buy some vintage suede item on ebay, I know it's a very very old animal product and as such it's bound to have become a bit whiffy over the years. Three days in the freezer followed by a few days hanging in sunlight will often work wonders. What really drives me nuts are ebay sellers who ship items that can easily be washed – cotton shirts, jackets etc, but who think it amusing to wrap up some old rank rags and then charge a fortune for the privilege of transatlantic shipping. I suppose at least if customs do open this stuff they will imagine it to be some form of vintage terrorism – old man's pants in a jiffy bag. I once received a 60s seersucker jacket from Florida that was so rank and yellowed that I put it straight in the bin and washed my hands with hospital alchohol. I've lived in the tropics and know what spores can get into clothing – nasty stuff.
This year (after a conversation with Herb Lester on this very subject hit the tipping point) I sold off a lot of the items from which it was impossible to remove that perfume de mort. In 2013, I'm going to buy way less vintage (unless it's truly washable in Vanish) and seek out new items for that reason.
2. Brooks Brothers 346 Madison Ave Store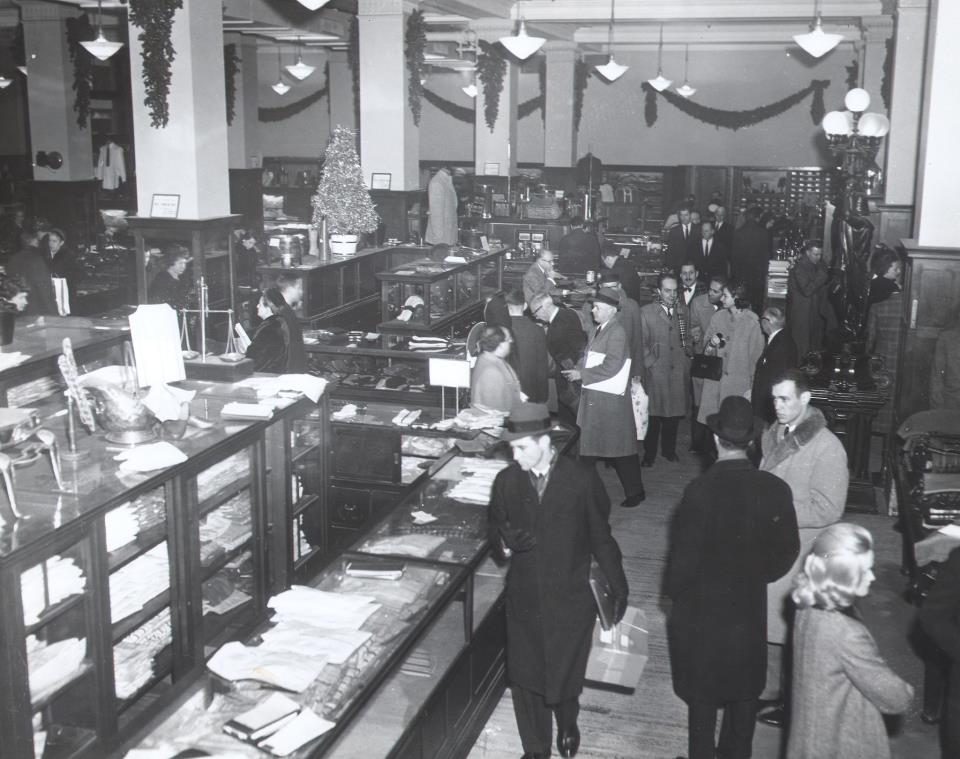 I know this place has been getting worse and worse for decades now, but at least under the aegis of Marks and Spencers (who were responsible for producing tons of M&S inspired 'mumsy style' crap), they left a lot of the classic stuff alone. Whether it was from knowing that's what Brooks' customers wanted from their favourite store or they hadn't got around to destroying everything before selling BB for a huge loss, we'll never know.
This year, I saw literally a handful of items in the entire store that I would have worn. Most I wouldn't wear even if they were free. Most of everything on all floors was aimed at the same RL Rugby/Abercrombie customer – a customer already well served with skinny cut crap from the aforementioned along with almost every other high st name in the US – Club Monaco, GAP, Banana Republic, you name it. That guy over on StyleForum must love being served by so many makers chasing his dollar.
Maybe because they had a large network of stores across the US, Brooks Brothers feared going upmarket – the only proven way to survive the effects of a fashion 're-imagining' –  and the Italian owners decided that going for the fickle youth market was the only option.
As I've railed on this blog before, I have no issue with brands doing this to survive and to adapt in new markets but Brooks seem to have done this at the complete expense of their core products and customers. J Press seem to have managed this transition more smoothly (although intent on employing staff who, however friendly, are clueless as to not only the heritage of Press, but even the items they actually sell – as a customer I resent having to correct sales staff with a 'no, you do stock them, and no those are not the same'. Fred in LA had a recent similar experience on the phone with one of the current Press muppets – sad).
I tried to buy one of the only remaining 3/2 roll sack jackets sold by Brooks. I had to climb to the very top floor and at the very back on the last possible rail (and furthest from the front doors – which tells you how Brooks see their own 'heritage' products) to find a short rail of the classic blazer, where most sizes were missing and two button models hung by staff on the same rail. "Here's a 38R" said the sales guy whilst giving me a look of 'can't you read the tags?'. "That's a different jacket entirely", I replied. "It's got 2 buttons, no patch and flap pockets and isn't a sack." 'Problem customer', his eyes flashed as he jerked it back sulkily on to the rail. I left with nothing.
3. Being Invited by Philips Van Huesen to view the Bass Weejuns Archive.
What? Number 3 sounds like it's in the wrong list!? That's because the person who contacted me no doubt thought The Weejun must be an American and made no reply to my polite email back letting her know I was London based. Well, I didn't expect them to fly me over first class just to write a blog post, (Hey, I'm no J.P. Gaul to get that treatment! Lucky fellow…) but I do travel to the US from time to time and would still have been interested in finding out more. Well, that's modern PR for you.
4.  'Goodbye Columbo' (raincoat)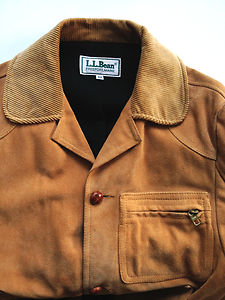 2012 saw me finally give up on many classic items I've bought over the years and treasured because they were such great items and in superb condition, but all really too big. London Fog raincoats, LL Bean Shearling, LL Bean Golden Bear suede field jacket (the lucky winner on ebay where it sold for peanuts emailed me on receipt almost in tears about how incredible the jacket was and how the photos didn't do justice. Just what you love to hear as a seller, right?), vintage deadstock shirts and many pairs of classic shoes all saw the ebay treatment this year.
Sad to see items go even if they don't fit, but there really isn't enough space on planet Weejun to keep everything.
5,6,7,8,9 &10 Everything else.
Well, I was going to run to 10 items for form's sake, but not only was I getting miserable remembering the lowlights of the year, but in truth the highlights were great and I'd rather bow out on a positive note for 2012.
Maybe I'll have time to be posting more in 2013, I'll try anyway.